Main content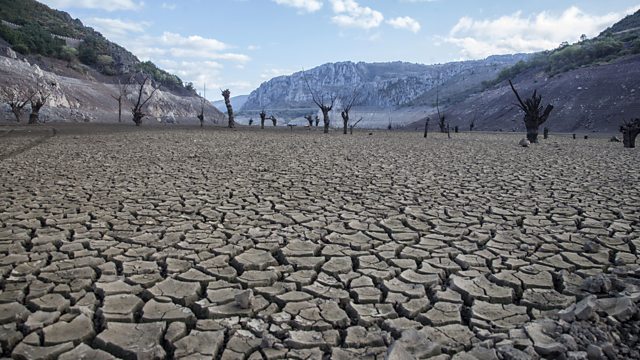 Heatwaves and Droughts
Heatwaves and Droughts; Billion Dollar Talc Ruling; Saving Lebanese Wild Flowers; Jellyfish Catching Robot; Can Robots Replace Humans?; 'Fasting" Diets'.
Heatwaves and Droughts
The Northern Hemisphere has been sweltering in some of the hottest temperatures recorded this summer. Records have been broken in Taiwan, California, Canada, Algeria and Oman. Yet 2018 is a La Niña year. This is the is the positive phase of the El Niño Southern Oscillation and is associated with cooler-than-average sea surface temperatures in the central and eastern tropical Pacific Ocean, and usually cooler and wetter summers in the Northern Hemisphere. So what's happening? Roland Pease talks to climate expert Martin Hoerling at NOAA, the US National Oceanic and Atmospheric Administration.
Billion Dollar Talc Ruling in the US
Johnson and Johnson has been ordered to pay more than four billion dollars in damages to 22 women who say its products gave them cancer. Professor Paul Pharoah, who's a cancer epidemiologist from the University of Cambridge has acted as a paid expert to one of the law firms representing Johnson and Johnson. He says he doesn't believe that the current scientific evidence supports the verdict in the United States - and women who've used talc shouldn't worry. He speaks to Claudia Hammond.
Saving Lebanese Wild Flowers
When Michel Ayoub bought a small patch of land in Lebanon 40 years ago as insurance against the financial crisis of the impending civil war, little did he know that he was creating an important micro-reserve for rare and endangered plants. Lebanon is home to a number of endemic plants. But many of the habitats where these plants thrive have been destroyed by conflict and subsequent unregulated construction, as Hugo Goodridge reports.
Jellyfish Catching Robot
A specially designed remote-controlled robot, inspired by Japanese origami paper-folding has been developed specifically to catch soft-bodied, gelatinous sea creatures such as deep sea jellyfish. Roland Pease has been finding out more from marine biologist David Gruber of City University of New York.
Can AI replace humans?
Robotics, virtual and augmented reality, implants and wearables are some of the machine/body interfaces that are moving us into a new era of healthcare. Over the last few years, machine-led caring has led to a wider acceptance of fully programmed machines looking after our well-being. This raises a number of ethical concerns. Gareth Mitchell speaks to Catherine Allen of Limina Immersive, Hannah Allen a family doctor, a GP and Associate Medical Director at Babylon Health, and Tony Prescott, Professor of Cognitive Robotics at the University of Sheffield.
'Fasting' diets
'Fasting' diets – where you fast or eat very few calories on some days and then eat normally on others – are all the rage in California. So we sent our reporter Alison van Diggelen to find out whether there is any evidence that they are any better than regular diets for weight loss.
Picture: Drought in Spain, Credit: Alvaro Fuente/NurPhoto via Getty Images
The Science Hour was presented by Gareth Mitchell with comments from Jon Copley, Associate Professor of Ocean Exploration at the University of Southampton.
Producer: Katy Takatsuki
Last on
BBC World Service
Americas and the Caribbean
Broadcast
BBC World Service

Americas and the Caribbean