Main content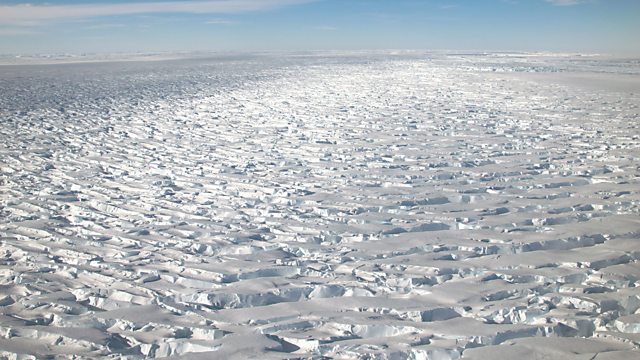 The Thwaites Glacier
The Thwaites Glacier; Kew Gardens' Temperate House; Untranslatable words; VR innovations; Arabian Sea 'Dead Zone'; Diarrhoea vaccine
The Thwaites Glacier in Western Antarctica is twice the size of the UK and accounts for about 4% of sea level rise, but what is unknown is whether the glacier will collapse as a result of environmental change. Adam Rutherford speaks to two scientists from a major new study which will be investigating what goes on under the glacier.
The 'Greatest Glasshouse' in the World
The Temperate House, the extensive Victorian glasshouse nestled within London's Kew Gardens, will once again be open to the public after five years of refurbishments. The building is home to 10,000 plants, across 1,500 species, and many of them are classified as rare and endangered. Roland Pease takes a tour.
Untranslatable Words
There is a decades-old debate in psychology about which comes first - language or thought? It raises questions about the words used to describe emotional experiences and the many emotional words which are particular to certain languages. Claudia Hammond talks to Dr Tim Lomas, a lecturer in positive psychology from the University of East London, who has been collecting these kinds of words for an online lexicon.
VR Innovations at Tribeca Film Festival
Gareth Mitchell takes part in a virtual experience where he becomes Michael Sterling, a black man who encounters racism all the way from his school days through to his career as a bright young graduate.
Dead Zone in the Arabian Sea
Piracy and geopolitical tensions have made it difficult to monitor the Arabian Sea, leading to data becoming outdated and incorrect. While searching the area using underwater robots Dr Bastien Queste and his team have discovered that a large area now lacks oxygen, impacting on ecosystems and fishing in the region. He speaks to Roland Pease.
Fighting Diarrhoea with a Vaccine
Residents of Finland are being offered a cut-price holiday in Benin – but there is a catch. They have to provide stool samples for scientists testing a vaccine against one of the common causes of diarrhoea which can kill children. Half of the holidaymakers will be given the vaccine to see if it helps to protect them against the bacteria. Mandeep Rai reports.
(Picture caption: Aerial view of Thwaites Glacier – credit: U.S. National Science Foundation/U.S. Antarctic Program/PA Wire)
The Science Hour was presented by Gareth Mitchell with comments from Dr Jon Copley, Associate Professor of Ocean Exploration at the University of Southampton
Producer: Katy Takatsuki
Last on
BBC World Service
Americas and the Caribbean
Broadcast
BBC World Service

Americas and the Caribbean