Main content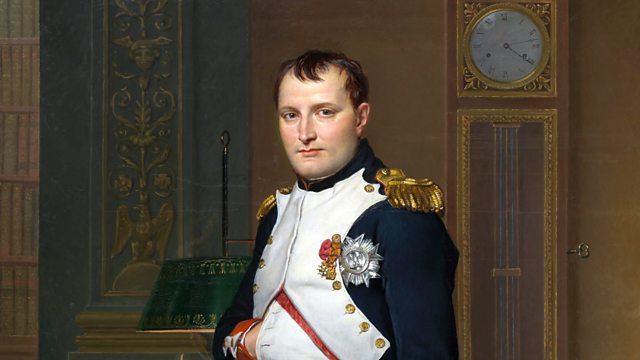 Napoleon: From empire to exile
Bridget Kendall separates fact from fiction in the much-mythologised life of the French emperor Napoleon Bonaparte, with guests Annie Jourdan, Kate Astbury and Rafe Blaufarb.
The story of how an average-sized artillery officer from a small Mediterranean island came to dominate revolutionary France and become the international celebrity of his age is an extraordinary one. Born on Corsica in 1769, Napoleon Bonaparte appeared to avoid engaging with the military career for which he was destined. And yet within a decade, his ambition, ego and enormous talent for self-promotion propelled him to the rank of general and eventually the highest office in France.
At the beginning of the 19th century Napoleon's rise appeared unstoppable. He was declared First Consul for life, then crowned himself Emperor of the French. He brought a period of much-needed stability to France and codified laws and systems which exist to this day. When his wife Joséphine was unable to give him a child, he divorced her and cemented an alliance with Austria's imperial family. At its height, the Napoleonic empire stretched across most of Western Europe and numbered 40 million people. But his continuing thirst for power also sowed the seeds of his downfall.
Bridget Kendall delves into the life and legacy of one of history's most divisive figures. With guests Rafe Blaufarb, Professor of History at Florida State University in the US; Kate Astbury, Professor of French Studies at the University of Warwick, UK and the co-curator of www.100days.eu ; and Professor Annie Jourdan from the University of Amsterdam, Holland.
Photo: Jacques-Louis David painting 'The Emperor Napoleon in His Study at the Tuileries', 1812 (VCG Wilson/Corbis via Getty Images)
Last on

BBC World Service
Australasia & East Asia only
Broadcasts
BBC World Service

News Internet

BBC World Service

except Americas and the Caribbean, East Asia & South Asia

BBC World Service

UK DAB/Freeview

BBC World Service

Australasia & East Asia only