Main content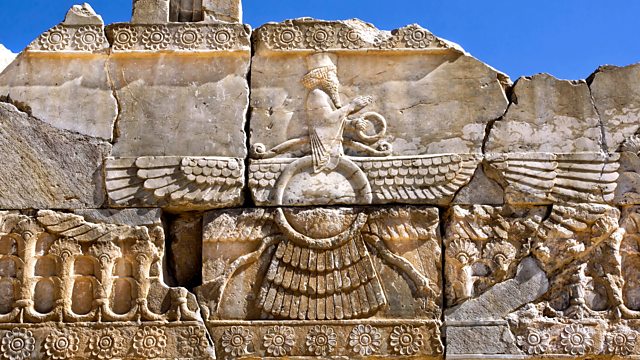 What is Zoroastrianism?
One of the oldest monotheistic creeds explained. With Rajan Datar, Dr. Sarah Stewart, Malcolm Deboo and Prof. Yuhan Vevaina.
It is a religion that has lasted three millennia, claims to be the world's first monotheistic creed and to have influenced major faiths such as Christianity, Judaism and Islam, inspired artists from Voltaire to Freddie Mercury but Zoroastrianism may be heading for extinction: in some communities only children of male Zoroastrians are admitted to the faith and there are probably fewer than 200 thousand left now.
Rajan Datar talks about the history of Zoroastrianism with Dr. Sarah Stewart, Shapoorji Pallonji Lecturer in Zoroastrianism at SOAS, University of London,
Malcolm Deboo, President of the Zoroastrian Trust Funds of Europe, the oldest Zoroastrian organisation on the continent,
and Yuhan Vevaina, professor of Sasanian Studies at Oxford University.
Photo: Faravahar - relief of winged sun symbol of Zoroastrianism in Persepolis city, Iran. (Getty Images)
Broadcasts
BBC World Service

except Australasia, East and Southern Africa, News Internet & West and Central Africa