Main content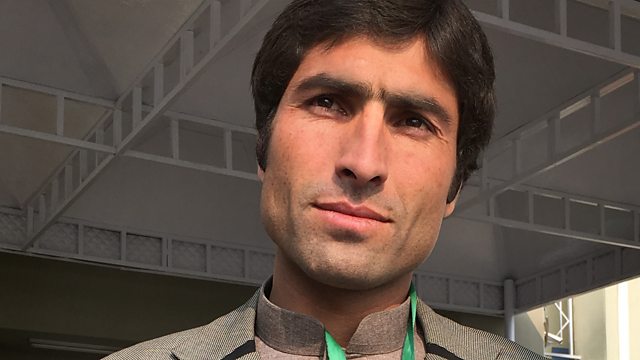 Killed for seeking justice
Kohistan video case; Estonia ice road; South Korean 10,000 day celebration; Kabul paramedics; My Home Town Brasilia; China's little red app. With David Amanor.
BBC Urdu's Humaira Kanwal has reported on the Kohistan video case for many years, and was helped by the man pursing justice, Afzal Kohistani. In 2012 a video emerged showing five young women from Kohistan singing and clapping with two young men, behaviour forbidden in this region. The men were Afzal's brothers and although they escaped, three other brothers were killed in the name of honour. Afzal believed the women were also killed, and took the case to Pakistan's Supreme Court. And now Afzal himself has been killed. Humaira remembers him.
Estonia's ice roads
In winter the Baltic Sea off the Estonian coast freezes, and if the ice is thick enough, the locals take to ice roads. Ivan Chesnokov and Yury Baranyuk of BBC Russian couldn't resist trying an ice road for themselves.
Celebrating 10,000 days in South Korea
A young woman in South Korea has chosen a novel way to highlight the many pressures facing her generation. She held a big party to celebrate her 10,000th day alive. Woongbee Lee of BBC Korean explains why surviving your twenties deserves a celebration.
Life as a paramedic in the Kabul ambulance service
The Afghan capital Kabul has a fleet of just 22 ambulances to serve a population of 7 million. The paramedics have to deal with frequent terror attacks as well as everyday health crises. The BBC's Kawoon Khamoosh joined the team to see them in action.
My Home Town: Brasilia
BBC Brasil's Nathalia Passerinho takes us to her hometown where a perfect weekend is spent with friends at a barbecue and walking amongst Brasilia's lush green spaces.
China's 'Little Red App'
The app 'learning power' is reportedly the most popular app in China. The government app is all about President Xi Jinping, and its similarity to Chairman Mao's Little Red Book has earned it the nickname Little Red App. Howard Zhang of BBC Chinese explains its aims and popularity.
Image: Afzal Kohistani, who fought for justice for the Kohistan video girls
Credit: Pam Constable/The Washington Post via Getty Images