Main content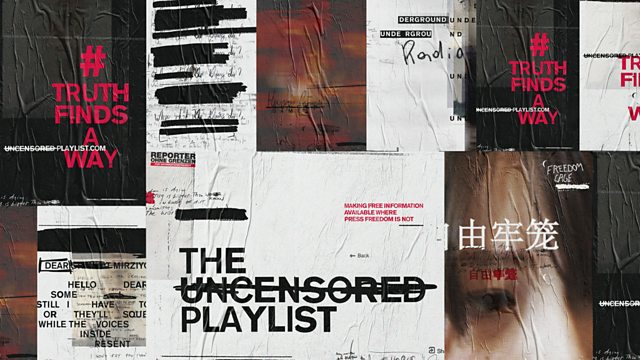 Can You Report The News Through Song?
The Cultural Frontline: where arts and news collide.
On this week's Cultural Frontline we explore the sounds of nature with Iceland's all-female radical performance art collective, the Icelandic Love Corporation. For over two decades, their art has engaged audiences on topics such as the over-sexualisation of women and reflections around aging and the female body. Now taking inspiration from the spirit of water, they are turning their art to another pressing matter, the need to act quickly to save our environment.
The Uncensored Playlist
Can you tell the news through song? That's the aim of the Uncensored Playlist, an innovative project from Reporters without Borders. Tina speaks to the Uzbek journalist Galima Bukharbaeva and the project's music director Lucas Mayer about how they've combined journalism, song writing and music streaming to spread the news and avoid censorship in countries without a free press.
Zimbabwe's Hit Satirical Play
A new satirical play called 'Operation Restore Legacy' has taken Zimbabwe by storm. Just six months after the fall of former President Robert Mugabe the new production which portrays the last days of his government after a military intervention, has wowed sold out audiences. The BBC's Shingai Nyoka met the writer and the director of the play, Charles Munganasa and found out what the play means for the future of the arts and freedom of expression in the country.
Singeli: The Sound of Dar es Salaam
Plus have you ever heard Singeli music? The Cultural Frontline turns up the volume on the Tanzanian music style with one of the stars of the scene, Bampa Pana from the group Sounds of Sisso. We'll find out how Singeli has taken over the airwaves and become not just the sound of Dar es Salaam but a global phenomenon.
Presented by Tina Daheley.
(Photo: Posters promoting the Uncensored Playlist Photo Credit: Reporters Without Borders)
Broadcasts
BBC World Service

except East Asia, Europe and the Middle East, News Internet & South Asia

BBC World Service

except East and Southern Africa, News Internet & West and Central Africa