Main content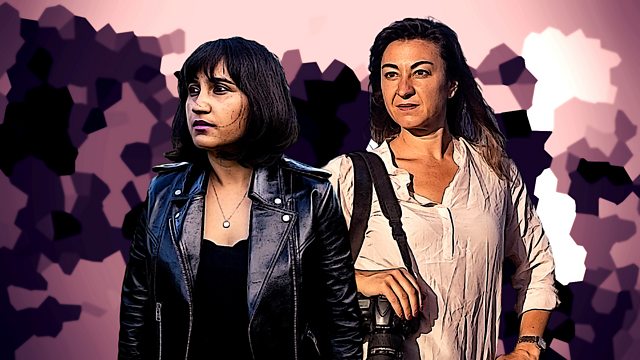 War Through A Woman's Lens
Two award-winning conflict photographers from India and the United States
As a conflict photographer you need bravery, passion and an ability to bear witness to unimaginable horror. Kim Chakanetsa brings together two women who are exceptional photojournalists and asks do female photographers look at conflict differently?
 
The American photographer Lynsey Addario is one of very few women on the frontline, documenting major wars and humanitarian crises around the world. During her career she has been kidnapped twice, but despite the toll on her personal life, she remains committed to revealing the cost of war. Though she says she has received criticism for working while pregnant, being a woman has given her unique access to the lives of women in war zones. Her work has garnered her numerous awards and she was part of the New York Times team that won the prestigious Pulitzer Prize in 2009. Her most recent book is called Of Love and War and is her first published collection of photographs.
 
Poulomi Basu is an Indian documentary photographer who has been described as a visual activist for her fearless examination of systemic injustices. Her lens focuses on stories that often go ignored or underreported, particularly those of women in isolated communities and conflict zones. She says it is important to bring the perspectives of women of colour to photojournalism. Her images have appeared in a wide range of publications and she has received a number of photography awards, including a Magnum Foundation Award and a National Geographic Grant.
Image: Poulomi Basu by Flora Thomas (L) Lynsey Addario by Nichole Sobecki (R)
Last on

BBC World Service
West and Central Africa
Clips

Broadcasts
BBC World Service

Online, UK DAB/Freeview, Europe and the Middle East & West and Central Africa only

BBC World Service

Australasia, Americas and the Caribbean, South Asia & East Asia only

BBC World Service

except West and Central Africa

BBC World Service

Australasia

BBC World Service

East and Southern Africa & West and Central Africa only

BBC World Service

except East and Southern Africa & West and Central Africa

BBC World Service

West and Central Africa