Main content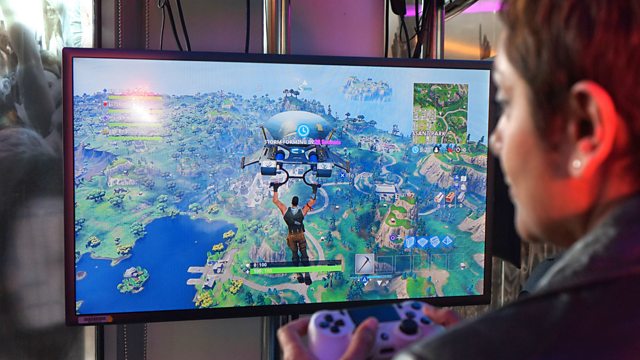 Is Fortnite Here To Stay?
What the multiplayer hit game Fortnite tells us about trends in gaming. Rory Cellan-Jones presents.
The multiplayer shooting and building video game Fortnite has become the latest worldwide gaming sensation. What is its appeal and what does it reveal about trends in gaming? Plus, we've seen augmented reality video, now we find out about technologies to augment what you hear. And, are we ready to accept music made by artificial intelligence? We chat to musician Taryn Southern who uses AI in her compositions. Presented by Rory Cellan-Jones, with BBC tech reporter Chris Foxx, and Keza MacDonald, games editor at The Guardian.
(Image: Videogame Fortnite being played on a large screen, Credit: Chris Foxx/ BBC).
Last on
BBC World Service
West and Central Africa
Broadcasts
BBC World Service

except News Internet & West and Central Africa

BBC World Service

West and Central Africa