Main content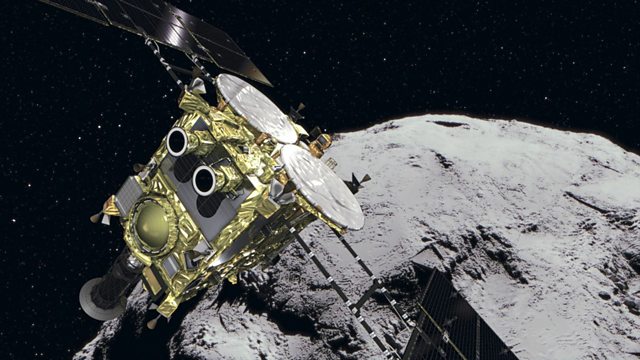 Japanese Space Mission Hayabusa 2 Reaches Asteroid
Japanese space mission Hayabusa 2 reaches asteroid. Also how social media helps botanists find an extremely rare plant and poo transplants help fussy Koalas
The Japanese Space Agency's mission to land on an asteroid, collect samples and return them to Earth has made its first approach. Currently looking for a landing site, the spacecraft is 20 Km away from the rotating pile of space rocks. It is hoped that samples from the asteroid Ryugu will give us information about the formation of the early Solar System and whether asteroids like this, brought water to Earth.
Social media helps botanists find an extremely rare plant
Roland Pease explores a fascinating story where social media played a key role in locating an extremely rare plant. The plant - Heuchera alba was caught accidentally on a video being made in the mountains of Pennsylvania to educate children on why plants are great. When it went up online, a team of botanists recognised the plant, a Twitterstorm of correspondence followed and they and were able to locate the rare plant in the wild.
Poo transplants help fussy Koalas
Faecal transplants in Koalas are being tested to see if they can help the endangered animals change their diet from a less nutritious gum tree to a more nutritious gum tree. They say that by transferring faeces from the gut of one animal to another, they could boost the health and viability of endangered creatures. Notoriously fussy eaters, Koalas have been known to stop eating if they can't get their preferred food. It's hoped that the poo transplants will help them change their minds.
Picture: Hayabusa 2 will use a projectile to excavate fresh material from beneath Ryugu's surface, Credit: JAXA / Akihiro Ikeshita
Presenter: Roland Pease
Producer: Fiona Roberts
Last on
BBC World Service
except News Internet & West and Central Africa
Broadcasts
BBC World Service

except News Internet

BBC World Service

except Australasia, East and Southern Africa, News Internet & West and Central Africa

BBC World Service

Australasia & East and Southern Africa only

BBC World Service

Australasia

BBC World Service

West and Central Africa

BBC World Service

except News Internet & West and Central Africa