Main content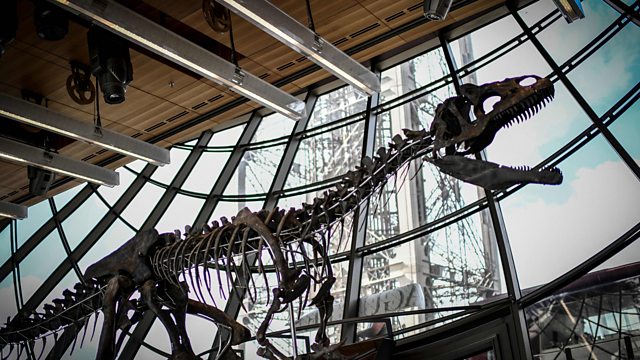 Selling Dinosaurs to Private Collectors
Selling dinosaur fossils to private collectors. Also do we need a higher Category 6 for the new Atlantic hurricane season? Cryoacoustics and Bacterial lending library
This week an auction of a 70% complete dinosaur skeleton took place in Paris. The Therapod species, dating from the late Jurassic (155m years ago) is scientifically very interesting. It's an unknown predator which, argues the Society of Vertebrate Palaeontologists, is why it should not be owned by the highest bidder, but made available to palaeontologists for more scientific study.
Category 6 Hurricanes
The 1st of June marks the start of the 2018 Atlantic hurricane season. Leading climate scientists debate whether we will see fewer or more tropical cyclones in the Atlantic as a consequence of anthropogenic climate change. There is a mounting consensus, however, that we will see more intense hurricanes. So do we need to add a more severe Category 6 to the Saffir-Simpson hurricane intensity scale.
Listening to Ice Melt
If you listen carefully to ice sheets in the Arctic, you can hear the glaciers calving and even the bubbles bursting as the ice melts. Scientists are attempting to calibrate these sounds with the extent of ice-melt in order to remotely monitor the state of the polar ice.
Bacterial Lending Library
More than 3000 medically relevant bacteria, including some of those responsible for the deadliest diseases (plague, dysentery and cholera) have had their genomes decoded. This brings the 100 year old national collection bang up to date. The collection is an invaluable resource for researchers wanting to understand how bacterial antibiotic resistance evolved over time and to help make detection of disease outbreaks now more accurate.
Picture: A dinosaur skeleton, sold to a private buyer at an auction in Paris for €1.6m (£1.4m; $2m), Credit: AFP/Getty Images
Presenter: Roland Pease
Producer: Fiona Roberts