Main content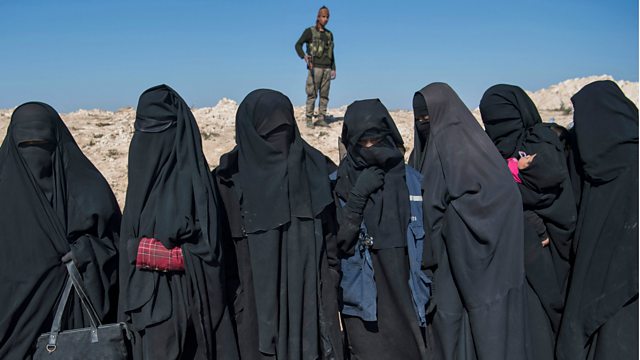 What next for the wives of Islamic State fighters?
The fate of thousands of foreign born women who went to Syria is uncertain. Should they have the right to return to their home countries?
What's next for the thousands of foreign women who have been living with Islamic State fighters in Iraq and Syria? The situation was highlighted after a British and an American woman expressed the desire to return to their countries of origin. With the Islamic State's rapidly shrinking territory, thousands of foreign born women - many with children - have fled the fighting and are sheltering in refugee camps. Ritula Shah and a panel of expert guests discuss what should happen to them now. Do they deserve to be resettled in their countries of origin? Or are their governments right to reject their citizenship? And what will happen to the children of IS fighters who have a right to reside in Europe or America?
(Photo: A fighter with the US-backed Syrian Democratic Forces keeps watch near veiled women standing on a field in Syria by Fadel Senna / AFP/Getty Images)
Last on
Contributors
Joana Cook - International Center for the Study of Radicalisation, at King's College, London.
Haras Rafiq - CEO Quilliam International, London based counter extremism organisation.
Jessica Trisko Darden - Fellow with the American Enterprise Institute in Washington.
Also featuring
Josie Ensor - Middle East Correspondent for the Daily Telegraph in Beirut.
Broadcasts