Main content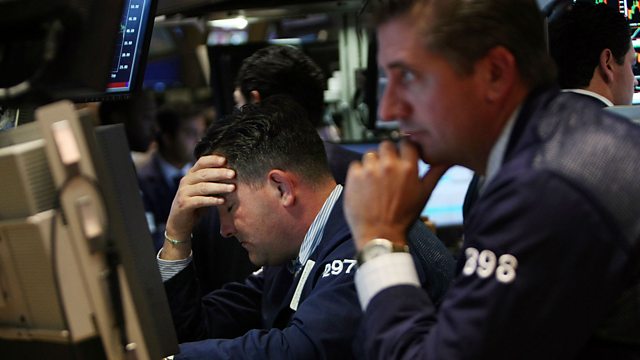 How Lehman's Collapse Changed the World
What have been the lasting consequences of the economic crash of 2008?
Ten years ago the US investment bank Lehman Brothers collapsed. The event rocked global stock markets and led to the biggest financial crash since the Great Depression. The decade that followed has been extraordinary. We've seen anger and discontent as living standards have fallen in large parts of the developed world. There's been political upheaval with the election of Donald Trump and the UK's vote for Brexit, while populists and demagogues have gained power across Europe. Ritula Shah and a panel of experts discuss the consequences of the 2008 financial crisis: low growth, a fragile global economy and a transformed political landscape. And, in the event of another crash, would governments have the ideas, the resources, and the goodwill to pull the global economy back from the brink?
Last on

BBC World Service
except Americas and the Caribbean, East and Southern Africa, News Internet & West and Central Africa
Contributors
Sheri Berman - Professor of Political Science at Barnard College
Ashoka Mody - Professor in International Economics at Princeton University
Adam Tooze - Professor of History at Columbia University
Stephanie Flanders - Senior Executive Editor at Bloomberg
Also featuring:
Alistair Darling - former UK Chancellor of the Exchequer
Photo
Traders work on the floor of the New York Stock Exchange September 17, 2008 in New York  by Mario Tama/Getty Images
Featured in...
Stories from people involved in the crash and how its effects are still felt today