Main content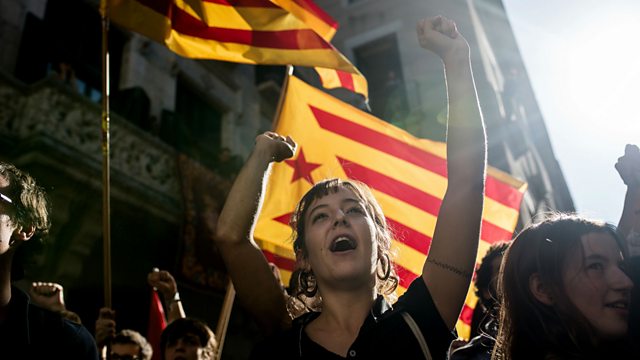 Is the Nation State in Decline?
Are nation states equipped to deal with trans-national threats facing the world, such as terrorism, migration and global warming?
People around the world continue to want a nation to call their own. There have been recent independence referendums in Kurdistan, Catalonia and Scotland. This trend has being going on for a century, as empires have given way to nation states, and those states have further subdivided. For much of the 20th century this made sense. Politics, the economy, and communications were mostly organised at a national scale. National governments had actual powers to manage modern economies. But after many decades of globalisation, have economies and information grown beyond the authority of national governments? How good are nation states at dealing with trans-national threats such as terrorism, migration or global warming? Carrie Gracie and a panel of expert guests discuss whether the nation state is in decline. And if so, what might replace it?
Last on

BBC World Service
except Americas and the Caribbean, East and Southern Africa, News Internet & West and Central Africa
Contributors
Rana Dasgupta - Writer in residence at Brown University
Philip Bobbitt - Director of the Center for National Security at Columbia Law School
Angie Hobbs - Professor of the public understanding of philosophy, University of Sheffield
Phillipe Legrain - Senior Visiting Fellow at the London School of Economics
Photo
People celebrating the independence declaration of Catalonia in October, 2017 by Carles Palacio/NurPhoto via Getty Images