Main content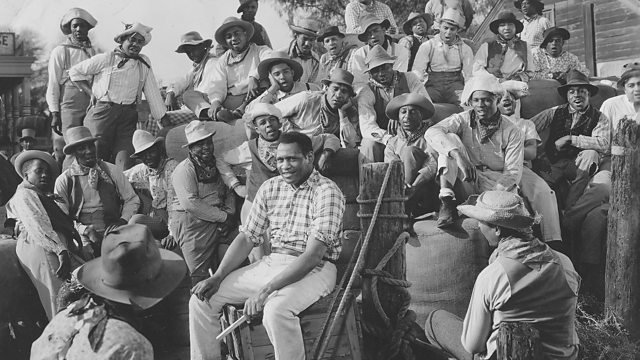 It Jus' Keeps Rolling: The Story of Ol' Man River
Ever since 1927 Ol' Man River's song has had many powerful currents.
In 1927 Jerome Kern and Oscar Hammerstein created Ol' Man River to bind their breakthrough Broadway musical Show Boat. Giving it an almighty showstopper. Audiences were carried away as 'Joe', the ordinary black labourer, took centre stage to sing of toil and suffering in the land of cotton along the banks of the Mississippi.
From the beginning it thrilled with powerful contradictions. A song of black suffering by white artists in Jim Crow America where its mixed cast couldn't even dine together. Its lyrics were racially charged and contested from the get go and before becoming a song of revolution and protest across three continents.
Kern and Hammerstein wrote it specifically with rising superstar Paul Robeson in mind. The son of a slave, the singer of new Negro spirituals and, later, the voice of working class solidarity. But Robeson would not be the first to perform it. That would come a year later in London, beginning a complex personal relationship with the song including his own changes to the lyrics and performances on the front lines of Civil War Spain and Cold War America.
Beyond Robeson, the song immediately became a jazz standard. Artists as diverse as Bing Crosby, Frank Sinatra, Sammy Davis Jr, Judy Garland, Rod Stewart, Ray Charles, Aretha Franklin and Dave Brubeck have performed it.
Mark Burman navigates the many currents of history flowing through Ol' Man River from Broadway to the Black Panthers to its last unlikely journey along the banks of the Brahmaputra and a new mass Indian audience that knew little of its original source.
(Photo: The singer Paul Robeson sings his famous song Ol Man River from his most famous shows, Showboat, with a large group of roustabouts, 1930. Credit: Afro American Newspapers/Gado/Getty Images)
Last on
Broadcasts
BBC World Service

except East and Southern Africa & West and Central Africa