Main content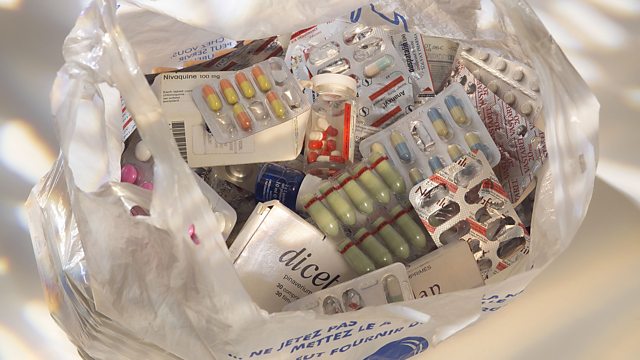 Is expired medication safe to use?
Are expiry dates on drugs overly cautious?; The people with anosmia who are retraining their noses; Why are lesbian and bisexual women at higher risk of being overweight?
It is generally recommended that once medication is out of date, it should be taken to a pharmacist, as after this time it might not be effective, and possibly has even degraded to a state where it is harmful.
However a new study has discovered that a batch of drugs taken to the Antarctic via the Tropics, stored and then brought all the way back to the UK for testing, was still fine up to four years after the expiry dates. Dr Emma Browne, Consultant in Emergency Medicine, became interested this after spending more than a year as a doctor with the British Antarctic Survey. She was all too aware that because they only had shipments of goods once a year, in an emergency they would have to make do with the drugs – expired or not - they had at the base. The research has just been published in the journal Wilderness and Environmental Medicine.
Imagine waking up and not being able to smell the coffee. For people who suffer from a condition called 'anosmia' that is a daily reality. They are people who have lost their sense of smell, whether through illness or after an accident, or in some cases in the early stages of dementia. And as well as making it hard to taste food, it is also hard to, say, tell if there is a gas leak and it can have a radical impact on sufferers' relationships.
Today is World Anosmia Day, which was set up to promote awareness about the condition. Reporter Marijke Peters went along to meet a group of people with anosmia trying to regain their sense of smell by retraining their noses using a handful of powerful aromas.
New research from the University of East Anglia has found that lesbian and bisexual women in the UK are at increased risk of being overweight or obese compared with heterosexual women, while gay and bisexual men have an increased risk of being underweight. The findings were based on a very large dataset and have just been published in the Journal of Public Health. Lead author Dr Joanna Semlyen, Senior Lecturer in Psychology and Medical Education, tells Claudia what she thinks the possible explanations are.
Health Check was presented by Claudia Hammond with comments from Sarah Boseley.
Producer: Helena Selby.
Main Image: Expired Drugs. Credit: BSIP / UIG Via Getty Images
Last on
Broadcasts
BBC World Service

Online, Americas and the Caribbean, UK DAB/Freeview, News Internet & Europe and the Middle East only

BBC World Service

Australasia & East Asia only

BBC World Service

Online, UK DAB/Freeview, News Internet & Europe and the Middle East only

BBC World Service

Australasia, Americas and the Caribbean & South Asia only

BBC World Service

East and Southern Africa & East Asia only

BBC World Service

West and Central Africa

BBC World Service

Australasia

BBC World Service

East and Southern Africa, South Asia & West and Central Africa only