Main content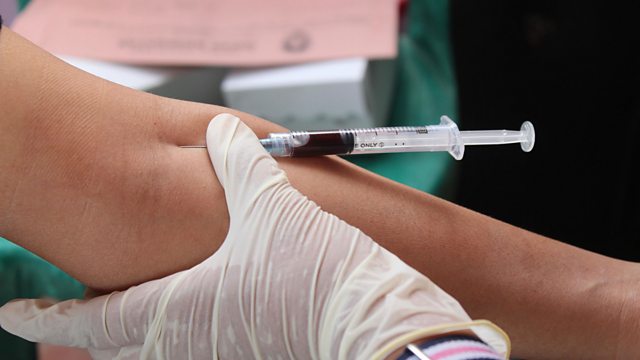 A New Blood Test For Measuring Pain
A new blood test to measure how much pain a person is experiencing; The latest on the ongoing crisis in the Zimbabwean health system; What is it like to live with a stoma?
If you are in pain a doctor might ask you how bad it is on a scale of one to ten. It is subjective and up until now there has been no objective way of measuring how much pain a person experiences.
A team at Indiana University School of Medicine has now developed a blood test which can not only assess pain, but will be able to predict whose pain might get worse in the coming months. The researchers are hopeful that one day they might even be able to use the blood test to look at molecular bio-markers and work out which painkillers work best for each individual patient. This will hopefully reduce prescriptions of opioids, which have led to addiction problems in many thousands of people globally. Professor of psychiatry Alexander Niculescu was lead author of the research, which has recently been published in the journal Molecular Psychiatry.
With an economic turndown and soaring inflation in Zimbabwe, patients now often have to bring their own medical equipment to hospital, and fuel prices are so high that some doctors have to waste valuable time taking public transport to attend to emergencies in the night. Doctors have been on strike and demanding to be paid in US dollars instead of local currency. Their 40 day strike was called off a couple of weeks ago, but still, as Edgar Munatsi, a family doctor who used to be the National President for the Zimbabwe Hospital Doctor's Association, tells Health Check, many doctors are still extremely concerned about the situation.
If a person has a stoma, instead of going to the toilet in the usual way, faeces are collected in a bag that is attached to the person's stomach and has been joined onto their gut. This bring its own challenges, and although in the UK alone one in five hundred people live with some form of bowel stoma, it doesn't tend to get talked about much. So family doctor Mark Porter went to Addenbrooke's Hospital in Cambridge to meet Michael Adams, who had to have part of his bowel removed due to severe inflammatory bowel disease.
Health Check was presented by Claudia Hammond with comments from family doctor Ann Robinson.
Producer: Helena Selby
(Main Image: A blood test being carried out. Credit: Ajun Ally / Pacific Press / LightRocket via Getty Images)
Last on
Broadcasts
BBC World Service

Online, Americas and the Caribbean, UK DAB/Freeview, Europe and the Middle East & News Internet only

BBC World Service

Australasia & East Asia only

BBC World Service

Online, UK DAB/Freeview, News Internet & Europe and the Middle East only

BBC World Service

Australasia, Americas and the Caribbean & South Asia only

BBC World Service

East and Southern Africa & East Asia only

BBC World Service

West and Central Africa

BBC World Service

Australasia

BBC World Service

East and Southern Africa, South Asia & West and Central Africa only