Main content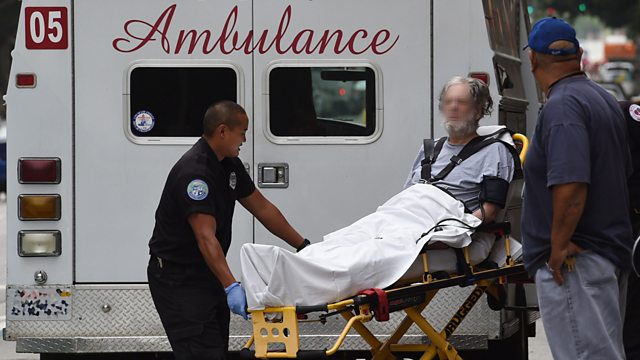 Why Does It Take Longer to Get to Hospital in Poorer Areas of America?
Longer ambulance response times in poorer US neighbourhoods; The people without a voicebox who sing together in a choir; New research linking malaria and depression in Kenya
New research from the US has found that where you live may affect how quickly an ambulance arrives, treats you and transports you to hospital. A large national study, led by Renee Hsia, Professor of Emergency medicine and health policy at the University of California in San Francisco, analysed more than 63,000 911 emergency calls for cardiac arrest across 46 states. She found that it took an average of nearly four more minutes to get to hospital in poorer neighbourhoods compared to wealthy ones. The research has recently been published in JAMA Network Open.
For those with throat cancer, treatment can involve having a laryngectomy, where a person's voicebox is removed, leaving the person unable to speak without holding their fingers to their neck. This moves air down into the oesophagus, causing vibrations which can be turned into speech by the person moving their mouth and lips as they would when speaking normally. It takes a lot of effort to do this, so joining a choir after this kind of operation might seem unlikely. But with the help of a charity called Shout at Cancer, a group of cancer survivors is doing just that, and as Mandeep Rai reports from a rehearsal in London, this is giving them confidence as well as a voice.
Having cancer or a stroke raises the risk of developing depression. Partly because being ill might make people feel rotten, but also because disease raises levels of inflammation in the body, which is also implicated in depression. At the same time depression is known to lower immunity, increasing the risk of catching disease. A new study in Kenya has found that this is also the case with malaria, and that people with common mental disorders were 60 per cent more likely to have it.
Rachel Jenkins, Emeritus Professor of epidemiology and international mental health policy at Kings College London, conducted the research in Kisumu county near Lake Victoria, after she realised that some people with depression were being misdiagnosed and presumed to have malaria. She wanted to establish more about the association between the two conditions. The results have just been published in the journal EBioMedicine.
(Photo caption: An elderly man is transported by ambulance in the downtown area of Los Angeles - credit: AFP/Getty Images)
Health Check was presented by Claudia Hammond with comments from BBC Health and Science correspondent, James Gallagher.
Last on
Christmas Eve 2018
02:32

GMT
Broadcasts
BBC World Service

Online, Americas and the Caribbean, UK DAB/Freeview, News Internet & Europe and the Middle East only

BBC World Service

Australasia & East Asia only

BBC World Service

Online, UK DAB/Freeview, News Internet & Europe and the Middle East only

BBC World Service

Australasia, Americas and the Caribbean & South Asia only

BBC World Service

East and Southern Africa & East Asia only

BBC World Service

West and Central Africa

BBC World Service

Australasia

BBC World Service

East and Southern Africa, South Asia & West and Central Africa only

BBC World Service

Americas and the Caribbean

Christmas Eve 2018

02:32

GMT