Main content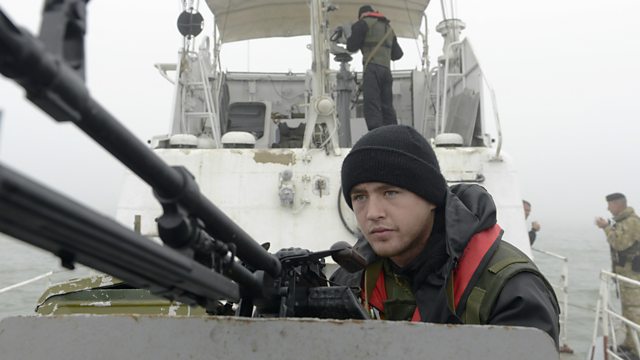 Now We're Being Punished
Russia's war of attrition on the Sea of Azov. No walls but a floor in Iraqi Kurdistan. Endemic nosebleeds amidst Afghanistan's drought. And the stigma of childlessness in Senegal.
Pascale Harter introduces analysis, reportage and wit from around the world.
In this edition: off the Crimean coast, in the Sea of Azov, Ukraine's modest coastguard fleet - which until recently consisted of just one former Turkish fishing boat - faces tense encounters with its Russian counterpart. On board, Jonah Fisher samples Ukrainian maritime cuisine and considers whether eastern Ukraine's trade links with the outside world can survive Russia's stealthy yet relentless pressure.
Samira Shackle reports from Erbil on the place that was once thought to be "the next Dubai" in Iraqi Kurdistan, where a displaced Yazidi couple reflect on the greater safety they enjoy now that fighters from so-called Islamic State have been driven out but where living conditions remain bleak, to say the least.
In Afghanistan, man-made crisis has been aggravated by persistent drought. Travelling around the country, Auliya Atrafi finds crops failing, animals dying and people in debt. Nomads have been forced to sell their herds. And growing numbers of people are expected to go the cities. So what are the prospects for relief?
And from Senegal, Jane Labous tells the story of Ndim and Badera who have been seeking to start a family after twelve years of marriage. So far they have been unsuccessful in a country where childlessness is still stigmatised. So what options remain for them - and who or what might be able to help their yearning for a baby?
Picture Credit: Alexander KHUDOTEPLY/AFP/Getty Images
Last on
BBC World Service
except News Internet
Broadcasts
BBC World Service

East and Southern Africa, Americas and the Caribbean & West and Central Africa only

BBC World Service

except Americas and the Caribbean, Europe and the Middle East & News Internet

BBC World Service

Americas and the Caribbean & Europe and the Middle East only

BBC World Service

except Americas and the Caribbean, East and Southern Africa, News Internet & West and Central Africa

BBC World Service

except News Internet