Main content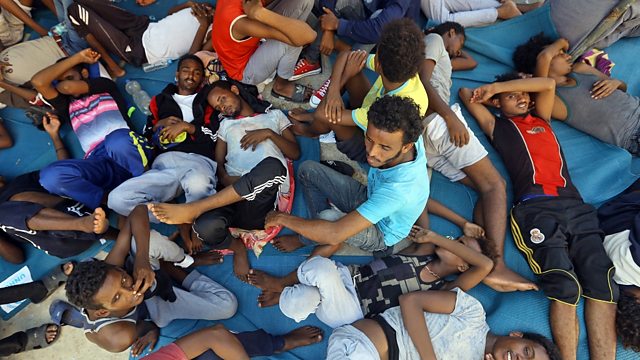 Running the Risks
Does Canada's legalisation of cannabis go far enough? Plus, hellish stories from Libya's migrant prisons, a Venezuelan band on the run in Colombia and a pair of Iranian explorers
Pascale Harter introduces stories of intrepid exploration, boundary-pushing and life in exile, from around the world.
Jatinder Sidhu reports from the heart of Vancouver's cannabis community - and hears why some pro-marijuana activists don't think the country's legalisation of the drug goes far enough.
Sally Hayden shares some of the distressing stories she has heard from inside migrant detention centres in Tripoli, where men, women and children aren't just locked up and prevented from travelling on to Europe; they're often also subject to physical and sexual violence, while Libyan militias battle in the streets around them.
Simon Maybin is in Cucuta, Colombia, joining the nightly odyssey of a quartet of musicians from Venezuela - as they walk the streets singing not only for their own supper, but for any spare cash they can send back home to family and friends without food or medicine.
And Lois Pryce meets Issa Omidvar - one of a pair of swashbuckling explorer brothers, whose adventures around the world thrilled Iranian TV, radio and cinema audiences in the 1950s. The coming of the Islamic Revolution put an end to their sort of travelogue, but Lois finds that Issa now serves as inspiration and adviser for a new generation of Iranians desperate to see more of the world.
Broadcasts
BBC World Service

East and Southern Africa, Americas and the Caribbean & West and Central Africa only

BBC World Service

except Americas and the Caribbean, Europe and the Middle East & News Internet

BBC World Service

except Americas and the Caribbean, East and Southern Africa, News Internet & West and Central Africa