Main content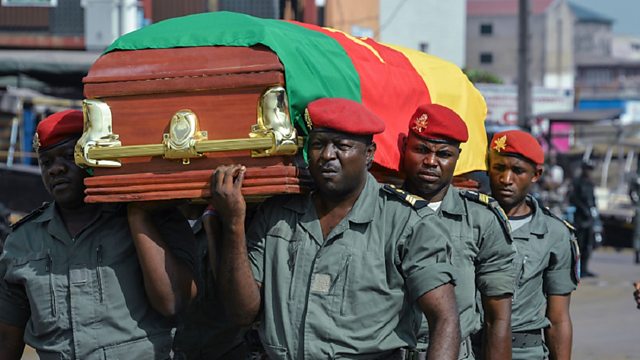 This Is What We Have To Do
Why one Anglophone from Cameroon took up arms - then gave up the fight; surviving sex abuse in Pakistan; hunting for illegal skin-lightening creams in Uganda; Norway's fish farms
Pascale Harter introduces personal stories, analysis, reportage and wit from around the world.
This weekend Cameroon votes on whether to give Paul Biya another term as President - but its eastern regions are in the grip of insurrection as English-speaking separatists press their cause. Colin Freeman spoke to one of these rebels, who's now given up armed struggle and fled to Nigeria, about the brutal reality of war in the bush.
The Punjabi town of Kasur, in Pakistan, has become notorious in the last few years, after a string of appalling cases of child rape and murder - apparently committed by rings of well-connected abusers who act with impunity. Some survivors of abuse have fled the place, sick of being insulted by neighbours or threatened by the people who victimised them. Samira Shackle travels back there with one young man who's trying to remake his life.
On the border between the DRC and Uganda, Patience Atuhaire joins a squad hunting down illegal contraband: yet it's not ivory or drugs they're chasing. Instead, they're on the trail of smugglers bringing illegal and dangerous skin-lightening creams into Uganda - and the customers awaiting them there.
And Peter Morgan takes a bracing boat trip along the coastline of Northern Norway, to learn how fish farming has transformed the prospects of many a community there. Where once rugged fishermen had to go and hunt the cod in freezing waters, now there are giant drums where Atlantic salmon are fattened up for market.
Photo:Soldiers carry the coffin of one of the four soldiers killed in the violence that erupted in the Northwest and Southwest Regions of Cameroon, in Bamenda on November 17, 2017. (STRINGER/AFP/Getty Images)
Last on
BBC World Service
except News Internet
Broadcasts
BBC World Service

East and Southern Africa, Americas and the Caribbean & West and Central Africa only

BBC World Service

except Americas and the Caribbean, Europe and the Middle East & News Internet

BBC World Service

Americas and the Caribbean & Europe and the Middle East only

BBC World Service

except Americas and the Caribbean, East and Southern Africa, News Internet & West and Central Africa

BBC World Service

except News Internet