Main content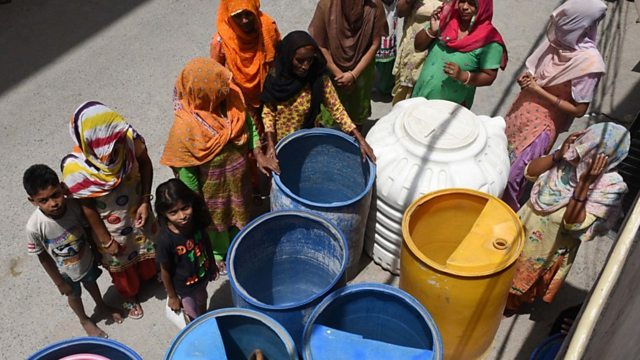 Fire and Water
Stories of Delhi's water woes; the Turkish tactics changing the Syrian city of Afrin; why some young Tunisians are still burning themselves alive; and how Sierra Leone sees China
Rebecca Kesby introduces stories of elemental struggle from reporters and writers around the world.
Renowned author Sonia Faleiro reveals how the search for clean, affordable water is becoming ever more exhausting in India's cities. In New Delhi, stories of "tanker mafias" and mob attacks multiply as the heat rises. Although PM Narendra Modi has agreed the country needs to tackle its water woes, in the face of multiple, long-term problems it's not clear if it can really meet its growing needs.
Nanna Muus Steffensen reports from the Syrian city of Afrin - passed from one armed group to another over the course of the country's civil war. It's been controlled by the Assad government, Sunni Arab rebels, the so-called Islamic State, Kurdish rebels the YPG - and now, with Turkey expressing concern about the YPG, by Turkish state troops with non-Kurdish rebels in support. But what does that mean for the city's people?
When Mohamed Bouazizi set himself alight in late 2010, in protest at what he felt was a corrupt and crushing system in Tunisia, he wasn't to know that his action would spark a regional revolt against bad government. Seven and a half years later, there's a new government in Tunis - but still not enough jobs or prospects for young people - and as Charlotte Bailey finds out, a distressing number of young men are still setting themselves on fire every year.
And in the week China's President Xi Jinping toured Africa, Olivia Acland discusses how this new Asian ally is seen in Sierra Leone. Many of the country's biggest and grandest public works have been made possible by Chinese investment and know-how - but anti-Chinese prejudice can still sometimes be heard on the street, in jokes and mimes, and even at political rallies....
Photo: Women wait in queue to fill water from a water tanker on June 19, 2018 in New Delhi, India. (Sonu Mehta/Getty Images)
Broadcasts
BBC World Service

East and Southern Africa, Americas and the Caribbean & West and Central Africa only

BBC World Service

except Americas and the Caribbean, Europe and the Middle East & News Internet

BBC World Service

except Americas and the Caribbean, East and Southern Africa, News Internet & West and Central Africa