Main content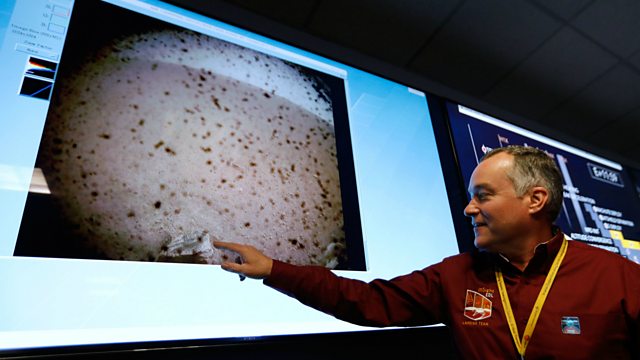 Mars Landing
The latest technology on the new Mars lander. Also drone detection testing, Wikipiano and a new way of listening to stories
Mars landing
Kate Arkless Gray tells Click about the technology on the latest Nasa Mars lander InSight and how this will work now that it is safely on the Red Planet's surface.
Detecting unknown drones
Aviation and drone experts have been carrying out drone trials near a major airport in the UK to trial new software designed to detect unauthorised drones and see if it can alert planes to potential danger. Gareth Mitchell went along to see how the technology works.
Wikipiano
Imagine if you went to a concert and perhaps thought the music that was being played there wasn't quite to your taste, or that the performance could be improved - would you want to change it? Well if the piece being performed is a webpage - one which anyone can access - you can make changes and see them implemented at the next show. Jack Meegan reports on his experience of Wikipiano.
Reading a book millions of times
Would you read the same story over a million times? New technology developed by the BBC will allow you to listen to a story in millions of combinations - the chapters are the same, just played in a different order. We hear more about B.S. Johnson's "The Unfortunates."
(Photo: NASA engineer and InSight project manager Tom Hoffman points to the first image upon a successful landing by the InSight spacecraft on the planet Mars. .Credit: Getty images)
Producer: Ania Lichtarowicz
Broadcasts
BBC World Service

Online, Americas and the Caribbean, UK DAB/Freeview, News Internet & Europe and the Middle East only

BBC World Service

Online, UK DAB/Freeview, News Internet & Europe and the Middle East only

BBC World Service

East and Southern Africa, South Asia & West and Central Africa only