Main content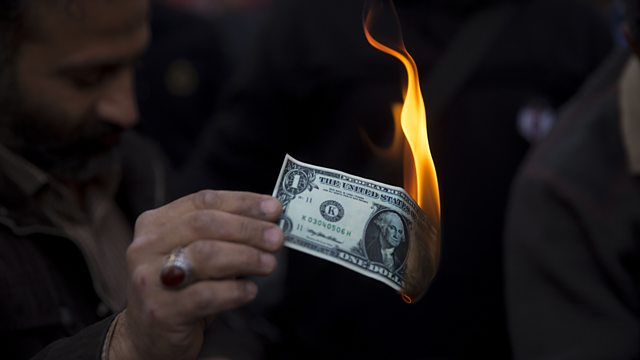 Death of the Dollar?
Will US President Donald Trump's re-imposition of tough sanctions on Iran simply hasten the downfall of the mighty US dollar as the world's reserve currency?
The US unleashed what it calls its "toughest ever" sanctions against Iran. The Trump administration reinstated all sanctions removed under the 2015 nuclear deal, targeting both Iran and states that trade with it. They will hit oil exports, shipping and banks - all core parts of the economy.
But what difference will they actually make? Ed Butler hears from Professor Jeffrey Sachs of Columbia University, an outspoken policy advocate who thinks Trump's America First policies are endangering the very status of the dollar as the world's chosen reserve currency.
And to explain how a reserve currency works, Ed hears from Barry Eichengreen, a well-known currency expert and professor of economics at Berkeley in California. And the programme considers whether China's renminbi, or the euro, could ever take over from the mighty dollar.
(Picture: An Iranian protester burns a dollar banknote; Credit: Majid Saeedi/Getty Images)
Featured in...
What's at stake, and what could change, in the 2018 US mid-term elections?
How the 2008 crash shaped our world