Main content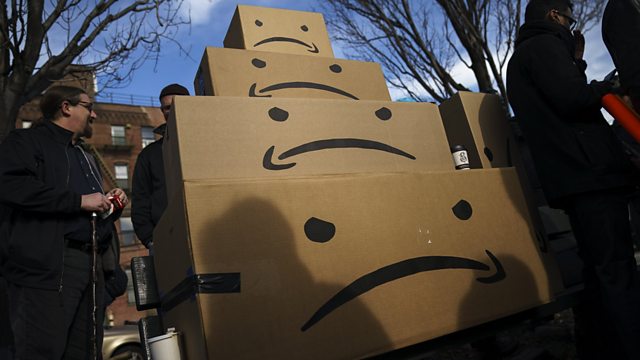 Amazon's New Headquarters
The "corporate welfare" offered by city authorities to lure the online retail giant has earned the ire of many residents at one of its proposed new office sites.
The online retail giant has announced that it will split its long-anticipated new headquarters between Long Island City In New York City, and Arlington, Virginia.
Some 238 cities across North America had competed for the role. But many residents at the lucky winners are angry about the billions of dollars in alleged "corporate welfare" offered by their city authorities to lure Amazon in. Winner's curse?
Michelle Fleury meets the protestors in Long Island City, while Edwin Lane speaks to urban studies theorist Richard Florida, Seattle-based professor of public policy Jake Vigdor, and to Vinous Ali of the British tech industry body TechUK.
(Picture: Boxes with the Amazon logo turned into a frown face are stacked up after a protest against Amazon in Long Island City; Credit: Drew Angerer/Getty Images)
How the 2008 crash shaped our world