Main content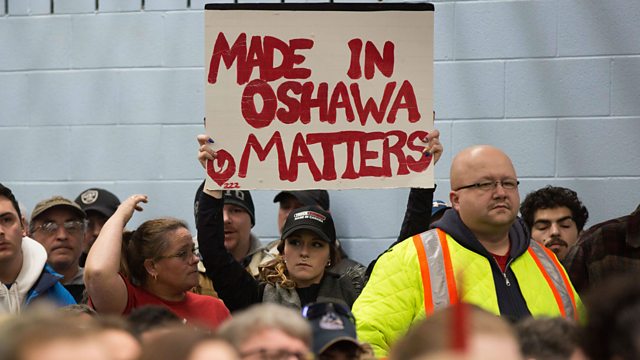 Unmade in America
General Motors is closing 5 factories, but the ripple effects will go beyond auto workers.
The history of the US auto industry goes back more than a century, and Americans take a lot of pride in it. It's part of the American psyche. So when this past week, General Motors announced that it is shutting down 5 North American factories and ending much of its passenger car production, that was big news and auto workers aren't happy.
Also: A Spanish property developer has plans for the Packard auto Plant in Detroit, abandoned more than 60 years ago; then we check out Boston's City hall, the archetype of brutalism; plus we visit a bagpipe factory, right here in New England.
(A woman holds a sign during a press conference with union leaders at in Oshawa, Ontario. In a massive restructuring, US auto giant General Motors announced it will cut 15 percent of its workforce to save $6 billion and adapt to 'changing market conditions.' Credit: Lars Hagberg/Getty Images)
Podcast
How the world looks through American eyes, and the myriad and unexpected ways that the world influences the United States.