Main content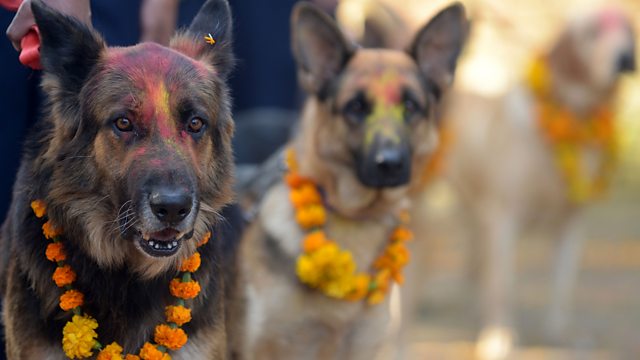 Canis Major
The dog in myth and religion amidst celebrations for the Chinese Year of the Dog.
Amidst celebrations of the Chinese New Year - the Year of the Dog - cognitive scientist Alexandra Horowitz seizes the occasion to explore how dogs are (and have been) regarded in religious iconography, texts, rituals and beliefs. In her research in dog cognition she explores the dual nature of the dog: how, while they live by and large co-operatively among humans, loving and loved, they also exist in another dimension as olfactory animals, attuned to a world of smells that we are not. Their olfactory acuity enables them to detect disease, to find illegal drugs and hidden explosives and is sometimes seen as an almost psychic, mystical sense.
This notion of the "magical" abilities of dogs has also followed them in myth and religion. Alexandra Horowitz talks to Yekaterina Barbash as they tour the exhibition, Soulful Creatures, Animal Mummies, at the Brooklyn Museum. She meets Jason Sun, curator of a new display Celebrating the Dog, at the Metropolitan Museum. With her friend and fellow dog admirer, Maira Kalman she explores how dogs feature in Renaissance paintings. She hears from Reverent professor Martin Henig about the healing powers of Nodens, while Trinlay Wangmo tells of the tribute to dogs in the Hindu festival, Kurkur Tihar. In contrast, with Alan Mikhail she questions why Islam finds dogs 'impure' and she travels to Hartsdale Canine Cemetery, north of Manhattan, to see the snow covered graves of thousands of beloved dogs.
(Photo: Nepalese police dogs smeared with vermillion on their foreheads and marigold garlands placed around their necks for the Tihar festival. Credit: Prakash Mathema/AFP)
Broadcasts