Main content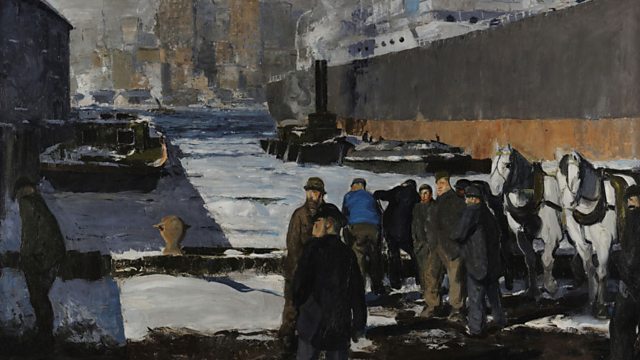 Moving Pictures: Men of the Docks by George Bellows
George Bellow's masterpiece Men of the Docks reveals life in the Brooklyn docks in 1912.
Cathy FitzGerald takes us to the Brooklyn docks in New York on an icy day in 1912. That is the setting for George Bellow's Men of the Docks, an extraordinary masterpiece from the collection of The National Gallery, London. The picture shows longshoremen waiting for work in the steely shadow of a cargo ship. Get up close and see how Bellows creates his cold and misty world - working quickly and fearlessly and using brushes, knives, even his fingers to manipulate the paint. Cathy hears why the artist wanted his masterpiece on display to greet the arrival in New York of the greatest ship in the world – The Titanic. Use your phone, tablet or computer to move around the image and discover the extraordinary details of this great masterpiece.
(Photo: Men of the Docks by George Bellows © The National Gallery, London. Bought with a grant from the American Friends of the National Gallery, made possible by Sir Paul Getty's fund, and by a donation from Mark Getty KBE, 2014)
Take a Look at Men of the Docks
Discover the incredible detail of George Bellows masterpiece, using your phone, tablet or computer. The images draw on technology developed for the Google Arts & Culture website.
Men of the Docks
Broadcasts
BBC World Service

Australasia, Online, Americas and the Caribbean, UK DAB/Freeview & Europe and the Middle East only