Main content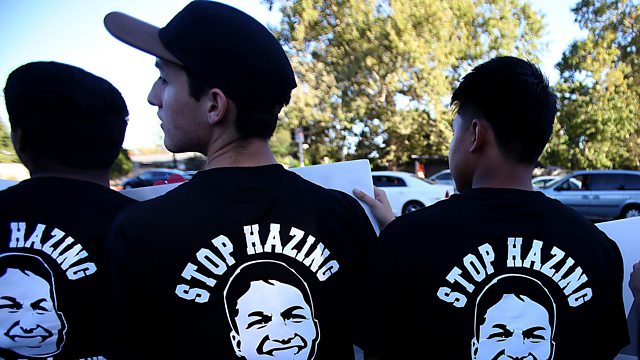 The Pledge
Students die every year on college campuses across the US as a result of dangerous "hazing" rituals to initiate new members to a group to which they pledge loyalty.
On college campuses across the United States, students die every year as a result of "hazing" - sometimes violent and dangerous rituals designed to initiate new members into a group to which they pledge loyalty.
In 2011, Pam and Robert Champion Sr. lost their son Robert to a hazing incident. Robert was a student at Florida A&M University and a drum major in the college's prestigious marching band, the Marching 100. He was brutally beaten to death by his fellow band members in an initiation rite known as "Crossing Bus C." Even though this ritual was prohibited, it was widely condoned, accepted, even encouraged, and going through it was considered an essential part of band membership.
Today hazing remains rife in all types of groups, from sports teams to all-male fraternities and all-female sororities, the so-called "Greek Letter Organisations" since the names of these social groups are taken from the Greek alphabet.
With around 220 deaths attributed to hazing since records began, producer and presenter Nicolas Jackson asks why so many are willing to risk so much in order to become members of a group, and just what can be done to stop it.
Producer and presenter: Nicolas Jackson
"The Pledge" is an Afonica production for BBC World Service
(Image: Family and friends Of Armando Villa call for an end to fraternity "hazing." Credit: Luis Sinco/Los Angeles Times via Getty Images)
Last on
Broadcasts
BBC World Service

except News Internet

BBC World Service

Australasia

BBC World Service

East and Southern Africa & West and Central Africa only

BBC World Service

except East and Southern Africa & West and Central Africa

BBC World Service

News Internet