Main content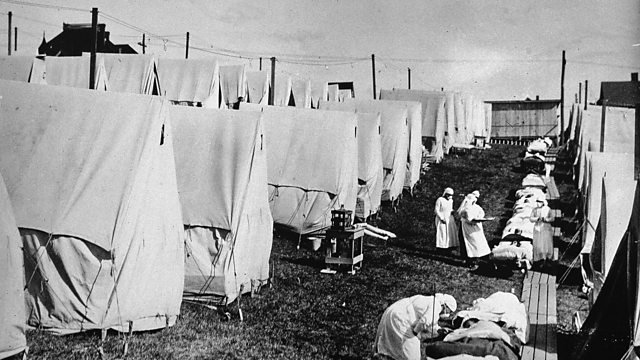 Pandemic: The Story of the 1918 Flu
How the flu pandemic of 100 years ago affected every corner of the world.
Professor John Oxford, one of the world's leading virologists, looks at how the 1918-19 flu pandemic affected every corner of the world. Over 50 million people died in the three outbreaks which hit in 1918 and 1919. It is one of the most devastating pandemics in history and to this day scientists are still trying to pin point its origins in the hope of learning lessons for fighting such catastrophic epidemics in the future.
More people died in the so called 'Spanish Flu' of 100 years ago, than perished in World War One. It even killed more than the bubonic plague, yet in many parts of the world it is virtually forgotten about.
We hear how otherwise healthy soldiers returning safely from war would be dead within three or four days, how whole families would be wiped out in a week and how the authorities in different parts of the world struggled to cope with looking after the sick and burying their dead on such a huge scale.
John looks through the archives and traces its emergence and spread through every continent. We hear real and dramatised testimony from people who lived through it (some still alive today) in countries like South Africa, Britain, France, America and New Zealand. He present his own hypothesis, gleaned from years of work in the area, on where it may have all begun and how we might prevent it from happening again.
Producer: Ashley Byrne
(Photo: Nurses care for victims of an influenza epidemic outdoors amidst canvas tents during an outdoor fresh air cure in Lawrence, Massachusetts, 1918. Credit: Hulton Archive/Getty Images)
Last on

BBC World Service
East and Southern Africa, South Asia, West and Central Africa & East Asia only