Main content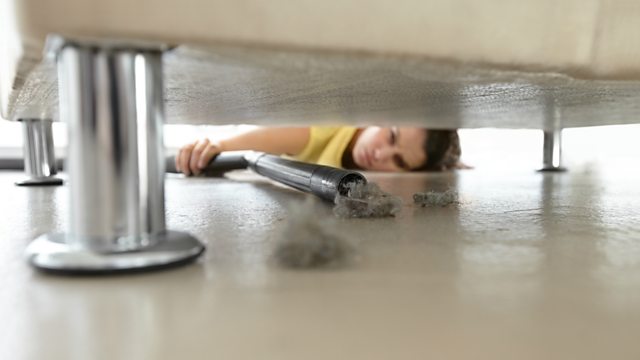 What is dust?
Most people think it's just dead skin. But what's really hiding in your dust?
It lurks behind sofas and collects in corners, apparently appearing from nowhere. But what is household dust? And should we bother sweeping it away? That's what Australian listener Moshe wants to know and what Marnie Chesterton is off to find out for this week's CrowdScience. She embarks on a mission to discover not only what dust is made of, but whether it poses any health risks. Although most people sweep it away without a thought, dust contains all sorts of secrets about our habits and everyday lives. Marnie finds out how dust can reveal the pets you keep, the chemicals in your surroundings, the location of your house and how fecal bacteria can uncover whether more men or women live in your home.
Presenter: Marnie Chesterton
Producer: Anna Lacey
(Image: Woman Vacuuming Up Dust. Credit: Getty Images)
Clips

Broadcasts
BBC World Service

Online, Americas and the Caribbean, UK DAB/Freeview & Europe and the Middle East only

BBC World Service

except Australasia, East and Southern Africa, News Internet & West and Central Africa
Podcast
We take your questions about life, Earth and the universe to researchers hunting for answers at the frontiers of knowledge.