Main content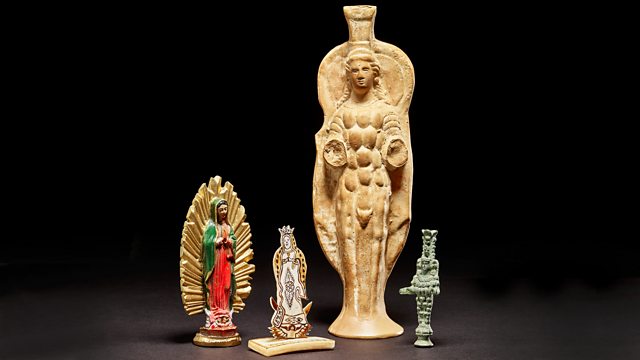 The Protectoresses
Shared beliefs around Our Lady of Guadalupe in Mexico and the goddess Artemis of Ephesus.
In Mexico, the image of Our Lady of Guadalupe came not from the hand of an artist, but was directly given from heaven - according to its history. Our Lady of Guadalupe is now the most powerful of presiding images, and the Basilica of Guadalupe near Mexico City is said to be the most visited Roman Catholic pilgrimage site in the world.
The sanctuary of the goddess Artemis in the great trading city of Ephesus, now in western Turkey, was by far the most celebrated temple of the antique Mediterranean, and the cult of Artemis spread eastwards towards the Black Sea, and westwards towards Spain. Artemis was thought to protect the vulnerable at their moments of greatest personal danger.
Neil MacGregor also visits a shrine devoted to a woman sometimes perceived as a contemporary protectoress.
(Photo: Ceramic sculptures of Our Lady of Guadalupe and the goddess Artemis of Ephesus. Credit: Trustees of the British Museum)