Main content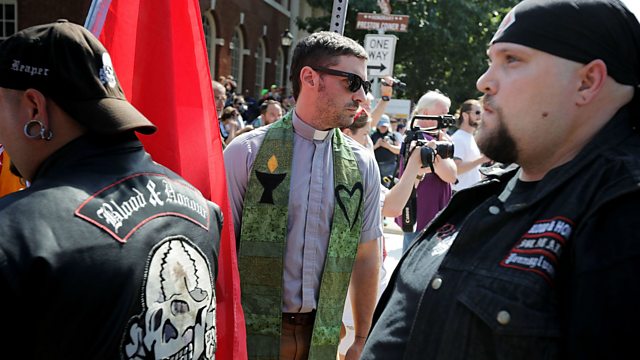 Christianity and White Supremacy in Charlottesville
As violence escalated in Charlottesville, clergy were called upon to help, often running into trouble. Jane Little meets clergy who, helped calm, a potentially violent situation
Charlottesville in the American state of Virginia, was thrust into the limelight in the late summer when white supremacists groups violently clashed with counter demonstrators
The city is Jane Little's home town, and she will find that even before the events of the summer, religious leaders had been long been mobilizing against alt-right groups following two previous demonstrations. The tactics they are taught mirror those used by leaders of the Civil Rights movement of the 1960's.
As the violence escalated in Charlottesville, clergy were called upon for help, in some cases even before the Police could arrive, often running straight into trouble. Sometimes a clergy presence would calm a situation but Jane will meet clergy who on that day suffered violent attacks.
She meets Rev. Osagyefo Sekou, pastor, activist, singer and the spiritual head of a movement of non-violent resistance, which he hopes to spread across the United States
Can a faith response though in reaction to the threat of violence between such polarised groups be enough?
Presenter: Jane Little
Production: Jane Little and Louise Clarke-Rowbotham
Broadcasts