Main content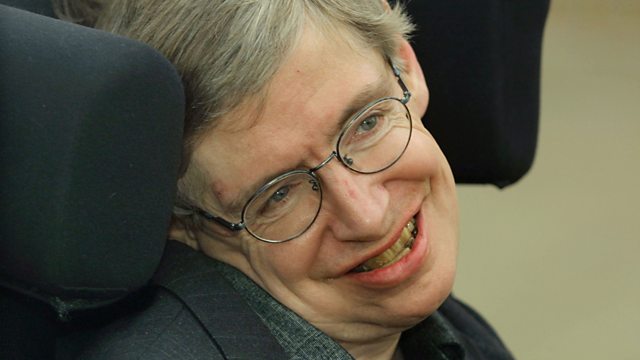 A Bright Star Of Science
The work of Stephen Hawking; Microplastic particles; Facebook algorithms; Next generation of batteries; AI Drama; Hawking's legacy
The physicist Stephen Hawking died earlier this week. His fame was founded on the research he did on general relativity and black holes, and he was known not only for being one of the finest ever scientists, but finest ever communicators of science. Being a theoretical physicist, Hawking thought in abstraction and mathematics. Roland Pease speaks to fellow cosmologist Sean Carroll and science writer Stuart Clarke, as they try to decode some of his mathematical language.
Microplastic particles
Microscopic plastic beads, fragments and fibres are littering riverbeds across the UK - from rural streams to urban waterways. This is according to a study that analysed sediments from rivers in north-west England. Scientists from the University of Manchester tested river sediments at 40 sites throughout Greater Manchester and found "microplastics everywhere". There is evidence that such small particles can enter the food chain. BBC Science Correspondent Victoria Gill reports.
Facebook algorithms
Facebook's collection of data makes it one of the most influential organisations in the world. Share Lab, a project from the Belgrade based Share Foundation, wants to look "under the bonnet" at the tech giant's algorithms and connections, to better understand the social structure and power relations within the company. Gareth Mitchell talks to Vladan Joler from the organisation.
John B. Goodenough
When you next plug in your laptop, hearing aid or mobile phone to charge, spare a thought for Professor John B. Goodenough. He is widely credited with the identification and development of the Lithium-ion rechargeable battery. At 95, he's still full of energy and ideas. Roland Pease tried to keep up with him when he visited his labs recently. He went to find out what John has in store for the next generation of energy storage.
AI Podcast
Sheldon County is the latest step in a life-long quest to build computers that generate fictional worlds. It's a podcast that will never sound the same twice. Every time someone listens to it, they'll begin by typing a random number into a website. This "seed" will set in motion a Rube Goldberg machine of calculation that will create characters, relationships, jealousies, betrayals, and maybe even a murder or two. Gareth Mitchell speaks to programmer James Ryan at University of California, Santa Cruz.
Stephen Hawking's legacy
In a final goodbye to Stephen Hawking, we look at his legacy. He was foremost a research scientist studying the likes of black holes, the Big Bang, singularities, and eventually quantum physics. Adam Rutherford speaks to fellow cosmologist Sheila Rowan - a key player in the ongoing LIGO experiments studying gravitational waves - about where we are with these concepts today.
The Science Hour was presented by Gareth Mitchell with comments from Jon Copley, Associate Professor of Ocean Exploration at the University of Southampton.
Producer: Katy Takatsuki
Picture: Stephen Hawking celebrates his 60th birthday, January 2002. Photo by Sion Touhig / Getty Images.
Last on
BBC World Service
Americas and the Caribbean
Broadcast
BBC World Service

Americas and the Caribbean