Main content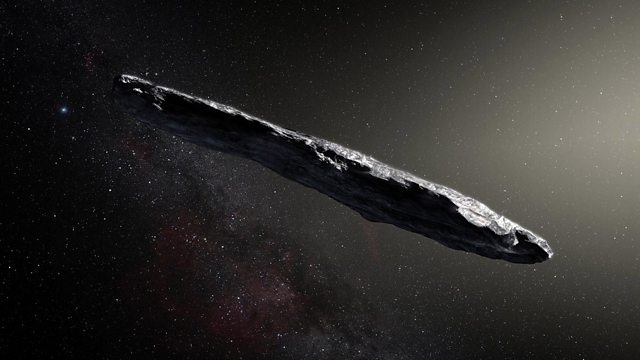 Interstellar Asteroid
Interstellar asteroid; Step counting; Dog Ownership Lowers Early Death Risk; Earth is losing its night; Radioactive lightning; Cancer; Jelly to make electricity
Why is the interstellar asteroid 'Oumuamua' such a strange shape? At 10 times longer than it is wide, the space rock is one of the most elongated cosmic objects known to science. It is also the first asteroid visitor form outside our Solar System, as Alan Fitzsimmons of Queen's University Belfast explains.
Millions of people wear electronic step counting bracelets or use apps on their phones – aiming for 10,000 steps a day. Claudia Hammond asks whether this routine motivates her – or if it is actually setting her up for failure.
Dog owners have a lower risk of death from cardiovascular disease or other causes, a study of 3.4 million Swedes has found. The team analysed national registries for people aged 40 to 80, and compared them to dog ownership registers. BBC Health and Science reporter Katie Silver tells us more.
The news that individual households, towns and cities are switching to LED lights in order to save energy should be good news. But a new study shows that the artificially lit surface of Earth at night increased in radiance and extent over the past four years by 2% annually. Roland Pease speaks to lead author Christopher Kyba about his concerns.
Flashes of lightning can spark natural nuclear reactions in the atmosphere over our heads. It might sound dangerous, but the fact it happens tells scientists just how extreme conditions can get when lightning strikes. Roland Pease reports.
Cancerous breast lumps are less likely to be detected in overweight or obese women before the tumour becomes large, a Swedish study has found. These women may need more frequent mammograms to help spot early tumours. Katie Silver also reports on news research that's found that a fifth of cancer patients experience post-traumatic stress disorder (PTSD).
Twenty years ago, geneticist Svante Paabo began a revolution in human evolution science when he extracted fragments of DNA from the 40,000 year old bone of a Neanderthal. He speaks to Adam Rutherford about the differences and similarities between humans and Neanderthals.
Scientists are exploring new materials as a substitute for expensive platinum catalysts in fuel cells. Marnie Chesterton reports on how one unusual material is being used in the making of a substitute.
(Image caption: Artist's concept of interstellar asteroid 1I/2017 U1 ('Oumuamua') as it passed through the solar system after its discovery in October 2017 © European Southern Observatory / M. Kornmesser)
The Science Hour was presented by Roland Pease with comments from BBC Health and Science reporter Katie Silver
Producer: Katy Takatsuki
Last on
BBC World Service
Americas and the Caribbean
Broadcast
BBC World Service

Americas and the Caribbean