Main content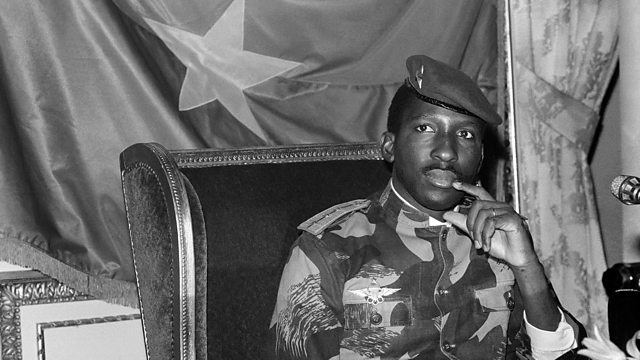 Sankara: Africa's Revolutionary President
Thomas Sankara: why his assassination and time in power still haunts Africa to this day.
Thomas Sankara is the revolutionary who became the first president of Burkina Faso in West Africa, and gave the country its name, meaning 'the land of upright people'. In his short time as leader of Burkina Faso, Sankara instituted sweeping reforms to make the country more self-sufficient and society more equal. For some Sankara was a hero, for others, he was a ruthless autocrat. This year marks 30 years after his mysterious -and as yet unsolved- assassination, but why do memories of him still haunt Africa to this day?
Joining Bridget Kendall to discuss Thomas Sankara, are Dr Amber Murrey-Ndewa from the American University in Cairo, Lamine Konkobo BBC Afrique journalist from Burkina Faso, and Aziz Fall, Professor of International Studies in Canada and campaigner for justice on behalf of the Sankara family.
Photo: Thomas Sankara at a press conference in Paris, 1986. (Getty Images)
Last on

BBC World Service
East and Southern Africa, South Asia, West and Central Africa & East Asia only