Main content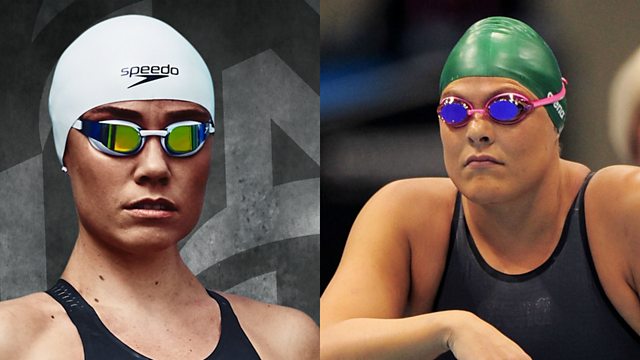 Swimmers
Kim Chakanetsa brings together two female Olympic and Paralympic swimming champions who speak frankly about sexism in the sport and the mental strength they needed to succeed.
Two swimming stars look back on their extraordinary careers and talk frankly about sexism in the sport, how they overcame major challenges to keep competing and how they dealt with their period ahead of a race.
Natalie Coughlin is among the greatest female swimmers in history, with 12 Olympic medals to her name. However when she was a teenager, and already a rising star in the pool, she suffered a severe shoulder injury which put her off competitive swimming altogether. It was only at university when she met her first female coach, Teri McKeever, that she once again felt inspired to go for gold. Natalie went onto become the only US woman to earn six medals at one Olympics. And at 35 years old she still hasn't officially retired.
Natalie du Toit is a Paralympic champion from South Africa who refused to be defined by the scooter accident that left her an amputee at the age of 17. Before the accident she had been dreaming of competing in the Olympics and was tipped for success. Three months after she lost her left leg at the knee, she was back in the pool, determined to see what she could achieve. Not only has she now won 13 Paralympic golds but she also competed at the 2008 Olympic Games in Beijing. She retired from the sport in 2012.
(L) Natalie Coughlin (credit: Aaron Okayama)
(R) Natalie du Toit (credit: Shaun Botterill/Getty Images)
Last on

BBC World Service
Australasia, Online, Americas and the Caribbean, UK DAB/Freeview & Europe and the Middle East only
Clips