Main content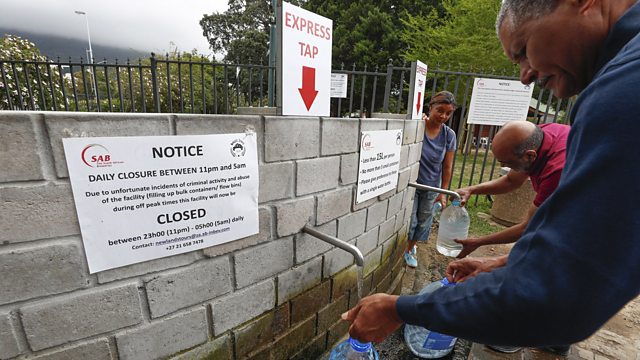 Will Cape Town Run Out of Water?
Will Cape Town run out of water? New ways to study the gut and it's microbiome and watching planets form in space.
9th July - It's being called Day Zero, the day the taps are turned off in drought stricken Cape Town in South Africa. After 3 years of unexpectedly dry weather leaving no water in the reservoirs that serve the city, we ask what could have been done better to mitigate the water shortage and how to prevent the same thing happening in other cities around the world.
Gut Microbiome
We are discovering more and more about how connected we are to the microbes that live in our gut. Their impact is not just on our digestive health, but in our brains, on our behaviour and on our immune function. So it stands to reason that we need better ways to monitor our gut microbiome. Roland finds out about a toilet that can monitor your health as you go to the loo, a microbiome grown in a lab and a tiny mini gut on a microchip.
Watching a Planet Form
With telescopes getting bigger and better at seeing what's going on in our Universe, what better way to spend your time than watching the chemistry of a planet forming from the dust swirling around a new star? Ideally you need 100's of millions of years to see the whole process, but the ALMA telescope allows researchers to watch snapshots of hundreds of planets forming at different stages, allowing a picture of planet formation at the molecular, chemical level.
Picture: Cape Town the first major city in recent history to run out water, Credit: European Photopress Agency
Presenter: Roland Pease
Producer: Fiona Roberts and Samanta Oon
Last on
BBC World Service
West and Central Africa
Broadcasts
BBC World Service

Online, Americas and the Caribbean, UK DAB/Freeview & Europe and the Middle East only

BBC World Service

Australasia, South Asia & East Asia only

BBC World Service

except Australasia, East and Southern Africa, News Internet & West and Central Africa

BBC World Service

Australasia & East and Southern Africa only

BBC World Service

Australasia

BBC World Service

East and Southern Africa & West and Central Africa only

BBC World Service

West and Central Africa