Main content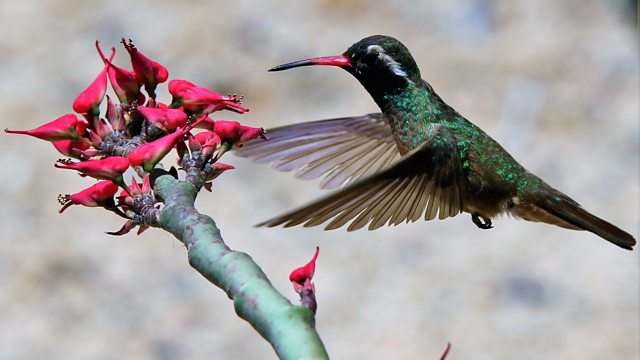 The Secrets of Hummingbird Flight Revealed
Secrets of Hummingbird flight. Also non-invasive optogenetics, smart breathalysers and how an amateur astronomy sleuth found NASA's missing satellite.
Slow motion videos of hundreds of hummingbirds have revealed the secrets to their remarkable manoeuvrability in the air.
Non-invasive Optogenetics
Optogenetics is a biological technique which involves the use of light to control cells in living tissue, typically neurons in the brain, that have been genetically modified to be sensitive to light. It holds great promise as a tool to help us understand brain function and behaviour. However, until now, it's an invasive technique, as light doesn't travel well through bone and tissue and so optical fibres need to be inserted surgically to get the light signal in. But now, new work shows that specific nanoparticles can be injected and then activated externally by infra-red light (which can travel through tissue) which then converts it to the coloured light needed to activate the cells in the brain.
Satellite – lost and found
In 2000 NASA launched the IMAGE satellite to study Earth's magnetosphere, for 5 years it looped our planet sending back images and data. Then it went quiet. It was hoped that an electronic failure would be reset when there was a solar eclipse in 2007, but this didn't happen. So it was all but forgotten, until a few weeks ago, amateur astronomer Scott Tilley in British Columbia in Canada was crunching satellite data hoping to spot a rogue spy satellite, instead he found IMAGE alive and well and back on line.
Smart breathalysers
Roland gets to see a new 'smart breathalyser' being made. New nano- materials that can change colour when they sense certain compounds could be used for medical diagnostics and healthcare monitoring.
Picture: Xantu's hummingbird Credit: Dr. Paul F. Donald
Presenter: Roland Pease
Producer: Fiona Roberts
Last on
BBC World Service
West and Central Africa
Broadcasts
BBC World Service

Online, Americas and the Caribbean, UK DAB/Freeview & Europe and the Middle East only

BBC World Service

Australasia, South Asia & East Asia only

BBC World Service

except Australasia, East and Southern Africa, News Internet & West and Central Africa

BBC World Service

Australasia & East and Southern Africa only

BBC World Service

Australasia

BBC World Service

East and Southern Africa & West and Central Africa only

BBC World Service

West and Central Africa