Main content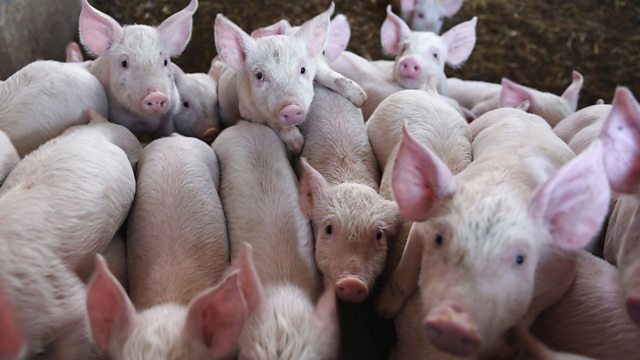 African Swine Fever
African Swine Fever. Also worrying immune response to the CAS9 protein in the Crispr gene editing complex Atlas and Solving the Two Brothers Mummy Mystery using DNA techniques
The viral disease that is deadly in domestic pigs and wild boar is spreading across Europe. The virus is large and complex and it's proving difficult to produce a vaccine for it. The virus is very long-lived and can survive in raw pork products, even at fridge temperature, as well as cured meat, on the clothing and vehicles of pig farmers and on animal waste and bedding. Luckily the virus does not infect humans, but it's a worrying time for the pork industry.
Immune Response to Crispr CAS9 Gene Editing Tool
Scientists have found a worrying human immune response to the gene editing protein CAS9, part of the Crispr CAS9 complex. With human trials of Crispr CAS9 gene editing on the cards, the finding that as many as 70% of people have existing immune proteins and cells primed to target the Cas9 proteins could mean that those patients might be immune to Crispr-based therapies or vulnerable to dangerous side effects.
Soil Bacteria Atlas
An assessment of soils across six continents reveals that very few bacterial taxa are consistently found in soils globally. The work represents the first global atlas of soil bacteria. The results of this study hopefully mean we can narrow down the immense number of bacterial types to just a few that are vital for improving our understanding of soil microbes and their contributions to ecosystem functioning.
Brother Mummies?
Using 'next generation' DNA sequencing scientists have found that the famous 'Two Brothers' mummies of the Manchester Museum have different fathers so are, in fact, half-brothers. The Two Brothers are the Museum's oldest mummies and amongst the best-known human remains in its Egyptology collection. They are the mummies of two elite men - Khnum-nakht and Nakht-ankh – dating to around 1800 BC. However, ever since their discovery in 1907 there has been some debate amongst Egyptologists whether the two were actually related at all. So 'ancient DNA' was extracted from their teeth to solve the mystery.
Picture: Piglets, Credit: Damien Meyer/AFP/Getty Images
Presenter: Roland Pease
Producer: Fiona Roberts
Broadcasts
BBC World Service

Online, Americas and the Caribbean, UK DAB/Freeview & Europe and the Middle East only

BBC World Service

except Australasia, East and Southern Africa, News Internet & West and Central Africa