Main content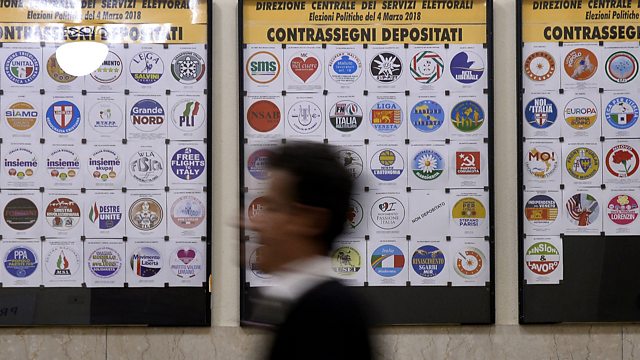 Is Italy Failing its Youth?
What needs to be done to provide jobs for Italy's young people?
Italy's upcoming general election is being seen as the latest test of a populist upsurge in Europe. Manuela Saragosa is in Rome to hear what young people want from the election and the economy. Italy has one of the highest youth unemployment rates in Europe and many young people leave the country to find work. So do politicians have any answers for young people searching for their first jobs? Manuela hears from students, an employer, and a grass-roots politician about what's at stake for the economy.
Contributors: Andrea Prencipe, Deputy Rector of LUISS Guido Carli University in Rome
Stefano Callegari, CEO at Trapizzino
Maurizio Coppola, Power to the People
Students at Sapienza University, Rome
(Picture: A man walks past a board bearing the parties' logos registered at the Italian Interior Ministry on January 20, 2018 for the general elections to be held on March 4, 2018. (Credit:FILIPPO MONTEFORTE/AFP/Getty Images)
Last on

BBC World Service
East and Southern Africa, Americas and the Caribbean & West and Central Africa only