Main content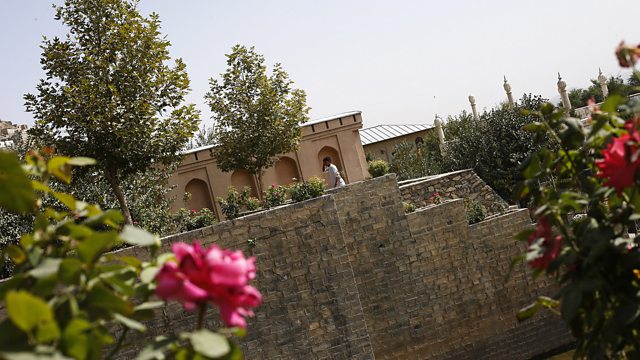 The Gardeners of Kabul
Meeting the people with a passion for flowers in a city of conflict.
Afghans have long had a deep love for trees, plants and flowers and they express this every summer through the work they do in their gardens. We are all familiar with the picture of the Afghan man with his large beard and Kalashnikov rifle - now meet the men with secateurs and watering cans.
Gardening is in their blood and it has been forever. You can see this in Babur's Garden, which was laid out in the early 16th Century by the man who established the Mughal dynasty in India. Largely destroyed during the civil war of the 1990s, the garden is once more a notable feature of the city, its largest public space.
Other gardens are less ambitious but no less beautiful. There is a world of colour and fragrance behind the concrete blast walls. Nurturing the roses, the geraniums and the grape vines have helped people survive in a city where violence and terror have been features for 25 years. Such people are the Omaris, retired professionals. Today they are more concerned with the lack of planning regulations, which allows their neighbours to build ever higher and block the light to their garden.
In the poorer parts of the city we meet Kaka Khalil and his neighbour Ramesh. Kaka Khalil has lived through the very worst of times, the early 1990s when different mujahideen groups were destroying the city, and later, when the Taliban moved in and the "houses were full of garbage, and nobody wanted to clean them." His garden is small but carefully nurtured, and he's teaching his children to take an interest.
Ramesh used to garden for a living. Today he grows his roses in a tiny plot outside his house, a plot reclaimed from the street. It's so small that presenter Ali Hamedani can almost touch each side if he stretches his arms out.
A little way out of the city, as the road winds upwards, is Paghman. This is where Hamidullah lives, a young man of 18, who studies at the university in Kabul. He discovered the thrill of growing things at the age of ten. Many Afghans of his age have been migrating to Europe in recent years in the hope of a more stable existence. Whether Hamidullah chooses to join them is an open question.
(Photo: An Afghan visitor walks in the gardens of Bagh-e Babur, Kabul, 2012. Credit: Alexander Klein/AFP)
Clips

Broadcasts