Main content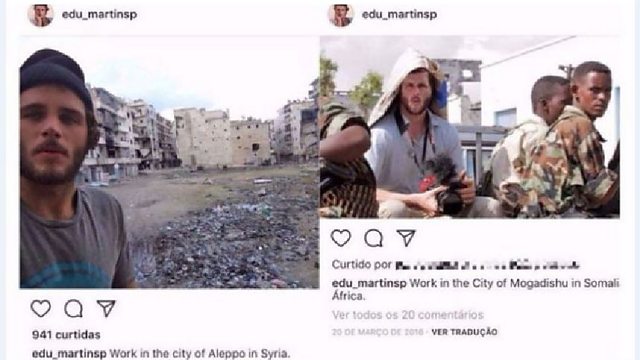 The fake war photographer
How someone masquerading as a young war photographer fooled not only thousands of social media followers, but also reputable news organisations.
On the face of it, Eduardo Martins had an inspiring and seemingly legitimate story. He seemed to be a young, conscientious photographer working in conflict zones who found success after overcoming hardship. His images were used on a number of reputable news sites, and his Instagram following reached into the tens of thousands. There is, though, one big problem with this story: it's a total fabrication. A BBC Brasil investigation has exposed Eduardo Martins as a fake identity. Martins – whoever he really is – took another man's self-portraits and passed them off as his own, and stole the work of a real war photographer. In this edition of the programme, Trending talks to BBC Brasil's Silvia Salek and meets the people behind this extraordinary tale.
Also on the programme, how pro-Russian twitter bots are being used to harass and intimidate journalists and researchers in an attempt to discourage them from covering stories.
Presenter: Megha Mohan
Producer: Will Yates
(Photo: Some of the images that Eduardo Martin used to bolster his Instagram following. Credit: Max Hepworth-Povey/BBC)
Broadcasts