Main content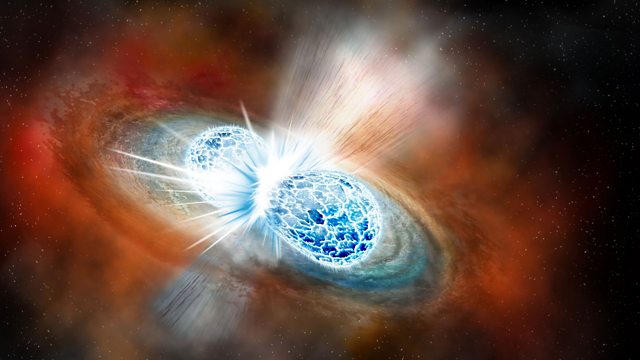 Stars Colliding
Stars colliding; futuristic travel; Diwali fireworks; Java's bird trade; the brain's "waste disposal"; dolphin brains; Chinese typewriters.
Astrophysicists Samaya Nissanke of Radboud University and Sheila Rowan of the University of Glasgow discuss the astronomical discovery of the year, if not the last couple of decades: the collision of two neutron stars and the cosmic gold-forging aftermath. The discovery of this long-hypothesized event on 17th August came from the much awaited marriage of the capabilities of the gravitational wave detectors LIGO and Virgo with those of ground-based and space-based telescopes.
Virgin has recently invested in a futuristic technology, Virgin Hyperloop One, which aims to create a speedy pod-based transport system. Alison van Diggelen talks to Richard Branson about his ambitious plans, including supersonic and space travel.
It's Diwali this week - and the Hindu festival is celebrated with prayers, food and fireworks. But in India, firecrackers have become so popular that there's a spike in air pollution - serious for anyone with lung problems like asthma. The sale of firecrackers has been banned in Delhi - in the hope of preventing a toxic smog from blanketing the city, as reporter Chavvi Suchdev explains.
The dense rain forests of Java - Indonesia's most crowded island - are rapidly falling silent. Tuneful songbirds that used to give the mountains a unique melody are being caught and sold. Bird-singing competitions are national events in the country, but this is threatening to drive the songbirds to extinction. BBC science reporter Victoria Gill has travelled to the country to investigate.
The discovery of the brain's "waste disposal" system could transform our understanding of neurological conditions. Until now, there was no evidence of the lymphatic system in the human brain. Claudia Hammond spoke to Senior Investigator Danny Reich from the National Institutes of Health in the US, about how this knowledge may eventually add to our understanding of brain conditions like multiple sclerosis.
A large brain, relative to our size, underpins sophisticated social structure in humans. Whales and dolphins also have exceptionally large and anatomically sophisticated brains. But until recently it has been unclear whether large brain size is linked to social structure in these marine mammals. Author of a new study Michael Muthukrishna tells Roland Pease more about tackling the question of brain size and intelligence in human evolution.
In,'The Chinese Typewriter: A History',Tom Mullaney recalls the great engineering and linguistic challenges in the 19th and 20th centuries of getting the Chinese language onto a table top machine. One consequence was the development of predictive text in the Chinese IT world long before it appeared in the West. Gareth Mitchell talks to Tom Mullaney.
The Science Hour was presented by Gareth Mitchell with comments from Victoria Gill BBC Science Reporter.
Producer: Katy Takatsuki
(Picture: Artist's concept of the explosive collision of two neutron stars. Credit: Illustration by Robin Dienel courtesy of the Carnegie Institution for Science)
Last on
BBC World Service
Americas and the Caribbean
Broadcast
BBC World Service

Americas and the Caribbean