Main content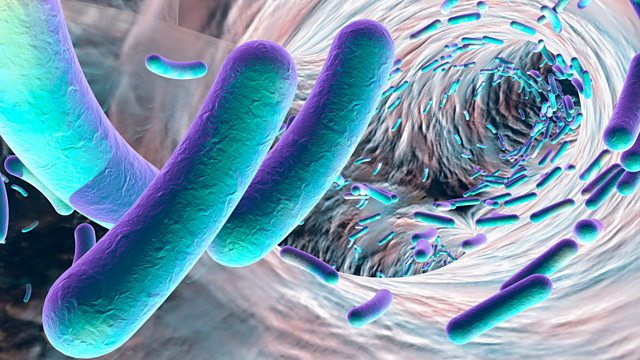 Antibiotic Resistance
Antibiotic resistance; Base editing; Menstrual cups; Gravitational waves discovery; Leopard seals in Antarctica; Drones in the dark; Sleep
The World Health organisation has warned there are too few new antibiotics in the development pipelines to replace those becoming obsolete. Gareth Mitchell talks to Willem van Schaik, a professor of microbiology at the University of Birmingham, and UBS analyst Jack Scannell, about the threat of antibiotic resistance.
'Chemical surgery' has been performed on human embryos to remove disease for the first time, Chinese researchers have told the BBC. Leading scientists give their first reaction on this 'base editing'. Also, studio guest Dr Claire Ainsworth, expert in developmental genetics, explains what it could mean.
A menstrual cup is an alternative to sanitary towels or tampons that is transforming the lives of some teenage girls in Kenya. Many cannot afford sanitary protection. Others had 'boyfriends' who would buy them pads – in return for sex. Maeve Frances reports from outside Kisumu in the west of the country.
The gravitational waves produced by two massive black holes colliding two billion years ago have been detected by three gravitational wave detectors for the first time. Professor Sheila Rowan of the University of Glasgow explains the importance of this new three way observation.
Marine ecologist Tracey Rogers talks to Jim Al-Khalili about her research on one of Antarctica's top predators, the leopard seal. Tracey's research has encompassed the animal's prolific and eerie underwater singing to radical changes in its diet that appear to be linked to climate change.
Scientists in Zurich have been carrying out new research with drones and lightweight cameras that will enable UAVs to conduct reconnaissance in poor light. Professor Davide Scaramuzza discusses the latest research with Gareth Mitchell.
Most of us are not getting enough sleep and it is affecting our health and life expectancy according to Professor Matthew Walker, whose book, Why We Sleep, is published this week. He has a family history of cardiovascular disease – and does everything he can to protect his sleep. He talks to Claudia Hammond.
(Image caption: Biofilm of antibiotic resistant bacteria © Getty Images)
The Science Hour was presented by Gareth Mitchell with comments from freelance science journalist, Dr Claire Ainsworth
Producer: Katy Takatsuki
Last on
BBC World Service
Americas and the Caribbean
Broadcast
BBC World Service

Americas and the Caribbean