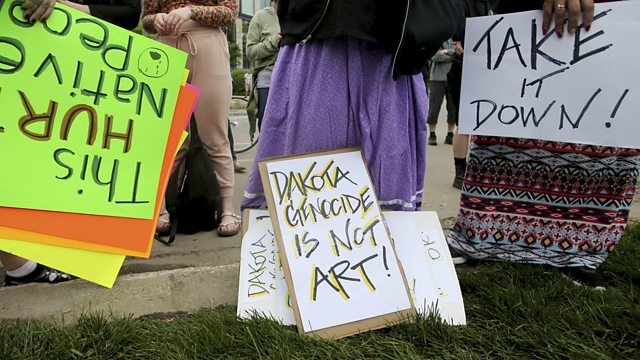 An Act Of Censorship Or Cultural Sensitivity?
The Cultural Frontline: where arts and news collide.
Should a divisive, traumatising sculpture have been dismantled?
'Scaffold', a sculpture by white American artist Sam Durant, was intended to explore America's relationship with capital punishment. A faithful replica of seven hangman's gallows, the work reflects the execution of 38 Dakota Indians in 1862, in what was the largest government-sanctioned mass-hanging in U.S. history. When erected by a prestigious art gallery in Minnesota, in full sight of Dakota land, protestors called the work insensitive - even, for some, an act of cultural appropriation. We hear from the artist Sam Durant as to why he's decided to give the rights to the work over to the Dakota community, and the lessons he's learned. And in discussion Kate Beane, historian and member of the Dakota community, is joined by Svetlana Mintcheva from the National Coalition Against Censorship to discuss who has the right to portray a traumatic past.
Also this week, 80 years on from the brutal bombing of the Basque town of Guernica, how has Picasso's mural, painted within weeks of the bombing, created such a universal and lasting legacy?
With Tina Daheley
Photo: Protests against the artwork 'Scaffold' at the Walker Art Center in Minneapolis, U.S.A. Credit: Alamy
Broadcasts