Main content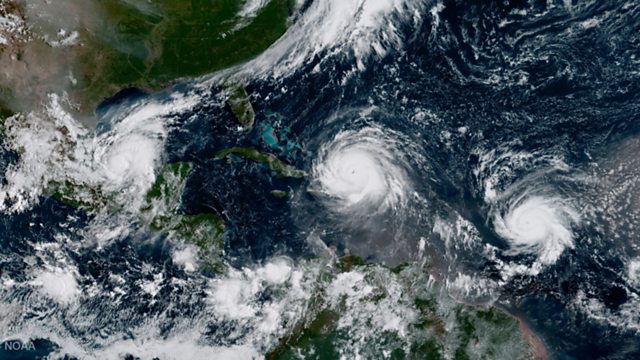 Hurricanes and Global Warming
Hurricanes and global warming; Also spurious correlations – unpicking cause and coincidence; the future of NASA
In the last few weeks, Hurricanes Harvey and Irma have been breaking records as they caused devastating damage in the Atlantic. Is there a link between global warming and these mega hurricanes? Looking at data collected over the last decade, the number of hurricanes each season may not change, but it is possible that strong storms will get even stronger.
Spurious Correlations
Understanding whether events that appear to be connected are one thing caused by the other, or just simple correlation, or patterns of trends, can be a tricky business. But it's the key to understanding cause and coincidence. Silvia Lazzaris looks at the weird and wonderfully, spuriously correlated world we live in.
The Future of NASA
Ellen Stofan, former NASA Chief Scientist, shares her opinion on the new nominee for NASA administrator, Jim Bridenstine. She talks about the role of NASA in leading scientific enquiry and its responsibility to exploring space and in building human resilience to extreme weather events like hurricanes.
Picture: Hurricane Katia (l) Hurricane Irma (m) and Hurricane Jose (r) in the Atlantic Ocean on September 7, 2017, credit: NOAA