Main content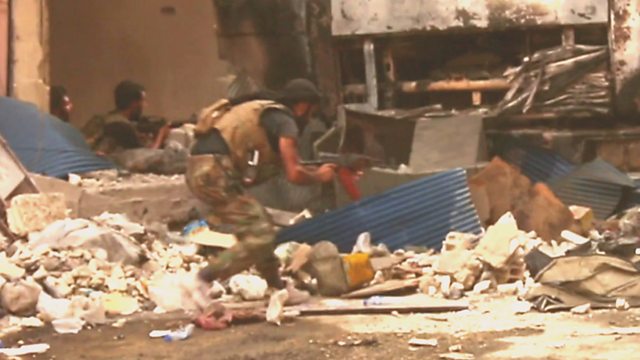 Ruined
Tales from amid the wreckage of Raqqa, so-called 'capital' of IS; the Venezuelans in Colombia; political killings return to South Africa; and the US trade sanctions on Sudan
Pascale Harter introduces stories of destruction and ingenuity from writers and correspondents around the world. In this edition:
Quentin Sommerville reports from the pulverised city of Raqqa in northern Syria. The Islamic State group declared this was the de facto 'capital' of its caliphate - but the militants are being rooted out not just by Syrian and Kurdish fighters on the ground, but by intense bombardment from the air. In the streets today, no civilians can be seen - and there aren't even many stray animals left alive.
Katy Watson is on the Colombian-Venezuelan border, witnessing a reversal of fortune. In decades past, many Colombians would flee drug violence and civil war at home to find work and peace in oil-rich Venezuela. But as Venezuela's economy has nosedived, many of its citizens are now running in the opposite direction, to seek a safer haven in Colombia.
The green, rolling hills of KwaZulu-Natal province, in eastern South Africa, are a beautiful region that's often evoked in South African literature and heritage. But they've also seen eras of terrible internecine violence - during the early 1990s, as apartheid was breathing its last, and now again, as ANC politicians seem to be embroiled in a slew of vendettas and revenge killings. Milton Nkosi reflects on what these new murders reveal about the state of the nation.
And how does life really work in a country under US sanctions? As Sally Hayden recently experienced herself in Sudan, the economic impact can be huge. From apps which won't download, to the need to fly wads of cash in and out of the country, doing business in (or with) Sudan demands plenty of ingenious workarounds.
Photo: Members of the Kurdish-led Syrian Democratic Forces group fight their way through the wrecked streets of Raqqa, trying to rescue a comrade shot by an Islamic State sniper, early September 2017. (c) BBC
Broadcasts
BBC World Service

East and Southern Africa, Americas and the Caribbean & West and Central Africa only

BBC World Service

except Americas and the Caribbean, East and Southern Africa, News Internet & West and Central Africa