Main content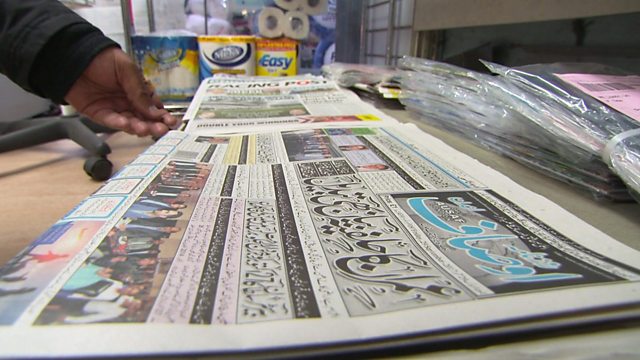 Pakistani Media in the UK
Manveen Rana uncovers hate speech, sectarianism and support for Pakistani militant groups in some of Britain's Urdu language newspapers, radio stations and TV channels.
The internet and social media have accelerated the spread of extremist ideas, say governments and security services - but on this week's Assignment Manveen Rana investigates how 'old media' is also disseminating extremist views in the UK.
The programme reveals how some Urdu language newspapers, TV channels and radio stations targeting the British-Pakistani community are propagating hate speech, sectarianism and even support for Pakistani militant groups which are proscribed terrorist groups in the UK.
A particularly common theme is content about the Ahmadiyya community, who are considered by some Muslims to be heretics. A persecuted community in Pakistan, such violence came to the UK in 2016 when shop keeper Asad Shah was fatally stabbed by a man accusing him of blasphemy.
Despite this shocking sectarian murder, British Urdu media continues to publish insulting material targeting the Ahmadiyya community - included campaigns calling on readers to boycott Ahmadi-made goods.
But at what point do these media outlets cross the line from bad taste to criminal behaviour? And are the UK's media regulators doing enough to prevent and punish the offenders?
Producers: Richard Fenton-Smith & Sajid Iqbal
Editor: Gail Champion
Studio Engineer: Neil Churchill
[Photo: A shopper picks up a copy of the Daily Ausaf paper in a London newsagent]