Main content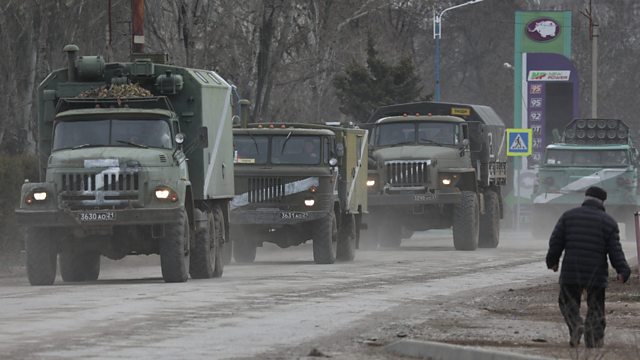 Russia shuffles military leadership overseeing Ukraine war
General Alexander Dvornikov has reportedly taken charge of operations in Ukraine.
General Alexander Dvornikov, a Russian general with extensive experience in Syria, has been put in charge of Moscow's operations in Ukraine. He's been tasked with improving the co-ordination of forces on the ground.
Also in the programme: reaction to a new UK law which requires restaurants which employ more than 250 workers to put calorie information on menus and online food apps.
Joining Julian Worricker to discuss these and other topical issues of the day are Sanam Naraghi-Anderlini, who is the executive director of ICAN, a women's rights organisation based in Washington DC, and Gwythian Prins, a military strategy expert who's advised NATO, the United Nations secretary-general and the UK Ministry of Defence.
(Photo: Russian Army military vehicles drive along a street, after Russian President Vladimir Putin authorized a military operation in eastern Ukraine, in the town of Armyansk, Crimea, February 24, 2022. Picture Credit: REUTERS/Stringer)
Last on