Main content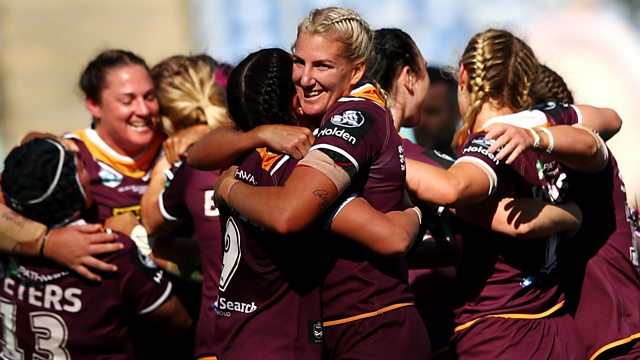 Australia Grand Final Weekend
We hear about both the men's and women's NRL Grand Finals.
With the both the men's and women's NRL Grand Finals taking place this weekend, we preview both matches which will be played as a double header in front of a 40,000 person crowd. Current captain of the Brisbane Bronco's Ali Brigginshaw joins us to look ahead to what we can expect from both matches and how Brisbane are looking for their third win a row.
How diverse is the sport of cheerleading? Caroline Nyemi-Tei founded Cheer from Head to Toe to address poor representation in the sport. She tells us about a new video she has released which documents athletes and coaches experiences of racism in the industry and how the sport can be more inclusive.
We also look at the link between sport and elections. A study conducted ten years ago argues that the fate of the person who holds a seat can be influenced by other matters like whether the local sports team wins or loses in the weeks prior to an election. We explore if this is still relevant with Stanford University Professor Neil Malhotra who conducted the research.
From SuperBowl winner to sommelier -Will Blackmon won the SuperBowl in 2012 with the New York Giants but retired in 2018 to pursue another passion he had… wine! He tells us more about what he does now and he is the 'Wine MVP'.
Plus in this week's Sporting Witness as part of Black History Month we go back to 1978 when Viv Anderson became the first Black Footballer to play a full England international.
Photo: Broncos captain Ali Brigginshaw celebrates with team mates after winning the 2018 NRL Women's Premiership Grand Final match between the Sydney Roosters and the Brisbane Broncos at ANZ Stadium (Credit: Getty images)
Last on
Broadcast